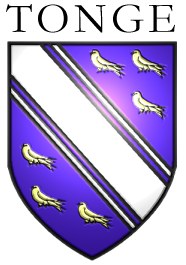 | | |
| --- | --- |
| | Home - Back to main page |
| | Index - Full contents list including primary and secondary source documents |
| | Genealogies - Several different Tonge family histories contributed by other researchers |
| | Search Site |
TONG, Alice : Alice Tong of Darcy Lever. Bastardy notice to Abraham Boardman, Wheelwright, of Little Lever. 1836. Quarter Sessions: QSP/3051/31

To Abraham Boardman of Little Lever in the County of Lancaster, Wheelwright

Whereas Alice Tong of Darcy Lever in the said county, singlewoman, was on or about the twentieth day of February now last past delivered of a male bastard child in the township of Darcy Lever aforesaid which said Alice Tong is now dead and the said child is become chargeable to the said township of Darcy Lever. And whereas we the undersigned – the churchwarden – and Overseers of the Poor of the said township of Darcy Lever have made ????? as to the father of the said child and find that ????? the said Abraham Boardman are the father of the same. We do therefore hereby give you ????? that at the ???? Quarter Sessions of the Peace [rest of microfilm too faint to read]

Ralph Knowles, Church Warden
Andew Nelson and Robert Barlow, Overseers

A copy of this notice was personally served on the within named Abraham Boardman on the 7th day of October 1836 by Ann Broom.
---
Notes
Alice Tong would have been 22/23 years old at the time
The child was called William Tong, and he was baptised at Bolton on 22 May 1836
Abraham Boardman, the reputed father, had married someone else; Mary Lomax, three days before William was born
Alice was buried at Little Lever on 5th July 1836
William lived with his grandmother is 1841, and then with uncles and aunties after she died
William himself died of a fever when he was 27 years old