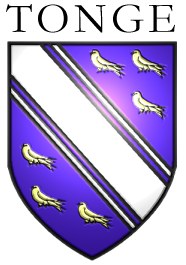 | | |
| --- | --- |
| | Home - Back to main page |
| | Index - Full contents list including primary and secondary source documents |
| | Genealogies - Several different Tonge family histories contributed by other researchers |
| | Search Site |
TONGE, Gervase Woodhouse Bursall :
Extract from an email from Bernadette Anthony, regarding her descent from Gervase Woodhouse Bursall Tonge.
From: panthony@tiscali.co.uk
To: stephen.tonge@tongefamily.info
Sent: Sunday, February 03, 2002 4:01 PM
Subject: Tonge Family
Benjamin Tonge, son of Gervase Woodhouse Bursall Tonge and Maria Goulby Harris, I believe is an ascendant of mine.

All my information has been gathered from the internet, family members and inherited ephemera, but I have no certificates as proof.

Benjamin Tonge married Sarah Webster Sutherland on 23/5/1843. They had a son Gervase Daniel Bursall Tonge, who married Laura Jane Durham on 15/6/1876.

Gervase and Laura had five chiildren, John Claude Gervase Tonge, Percival R Tonge, Laura Rosina Tonge, Rosemary Tonge and Nellie Florence Tonge. Nellie Florence was my Great Grandmother. Both John and Percival died in the Great War and are listed on Mike Tong's website, in the casualties section. My brother has their medals.

The two brothers were due to contest the estate of the Duke of Sutherland upon their return from the war. I believe the connection was through their paternal grandmother, but found it interesting that there is a parish of Tonge within the county of Sutherland, Scotland.