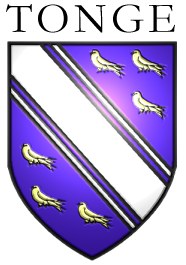 | | |
| --- | --- |
| | Home - Back to main page |
| | Index - Full contents list including primary and secondary source documents |
| | Genealogies - Several different Tonge family histories contributed by other researchers |
| | Search Site |
The Brownlow Family of Hall i' th' Wood : Transactions of the Historic Society of Lancashire and Cheshire, Vol. 63, pp66-78. Relating to ownership of the manor of Tonge and including mention of the Tonge Deeds.
The Brownlow Family of Hall i' th' Wood
By H. Ince. Anderton
Read 9th November 1911
When Mr. Fergusson Irvine read his paper on Hall I' th' Wood before the Society in 1903<![if !supportFootnotes]>[i]<![endif]>, he was obliged from want of evidence to leave indefinite the date and circumstances of the transfer of the estate from the Brownlows to the Norris family. The matter can be cleared up by means of the Tonge Deeds preserved at Huntroyde. It is quite evident from these that Lawrence Brownlow, who succeeded in 1577,<![if !supportFootnotes]>[ii]<![endif]> lived to a great age , eighty-seven years or more. On 13th July, 1631, he describes himself as "very old" and on 14th June 1632, he is called the "old gent". His signatures, once firm and good, had become very shaky. On 28th July, 1632, he was party to a deed, but in a later deed of 21st April, 1635, he is described as deceased, so that he may safely be identified with the "Mr. Lawrance Brownelaw de Tonge" who was buried at Bolton inside the church on 28th June 1634<![if !supportFootnotes]>[iii]<![endif]>. From the deeds referred to it appears that the son and heir, Lawrence Brownlow, who had succeeded, entered into articles of agreement with Christopher Norris on 22nd October, 1635<![if !supportFootnotes]>[iv]<![endif]>; but it was not until 1st March, 1646/7, that the Brownlow trustees made use of the power (reserved to them during the life of the then tenant only)<![if !supportFootnotes]>[v]<![endif]> to alter the settlement made Lawrence Browlow the father. On account of the dates of Easter in 1737 and 1638 (April 9th and March 25th) the fine and recovery of "Monday in the 5th week of Len 13 Charles"<![if !supportFootnotes]>[vi]<![endif]> might be date either 27th March, 1636/7, or 12th March, 1637/8; but from internal evidence it is clear that the earlier year is the right one<![if !supportFootnotes]>[vii]<![endif]>; this is confirmed by a deed of 16th March, 1636/7, which arranged for a recovery to be suffered before the following Easter to the use of Lawrence Brownlow for life, with remainder to Christopher Norris, his heirs, &c.<![if !supportFootnotes]>[viii]<![endif]>
Seisen was given to Norris on 27th March, 1637, in the old-fashioned way. His deputies, Robert Leaver of Bolton, shearman; William Greenhalgh of Tonge, fustian-webster; and Richard Morres of Bolton, shearman, entered on the capital message in Tonge called the Lower Wood Hall, as representing the estate in Tonge, and they kept possession one entire day. In the same way they took a day's possession of messuages in Turton and Bolton as representing the Brownlow estates in those places.<![if !supportFootnotes]>[ix]<![endif]>
This was a formal act, because from the renewal of a lease of a cottage in Tonge in 1661 it appears that that the old lease the surrendered had been made by Lawrence Browlow on 20th December , 1637, for three lives.<![if !supportFootnotes]>[x]<![endif]>
In the same year (1637) we have another aspect in the case presented by the younger Lawrence's nephew, William Brownlow, then under age and appearing by his father John, Lawrence's younger brother. William, as next heir, conceived himself that aggrieved by the contract with Norris. He said that it was always the intention of the elder Lawrence (his own grandfather) that, in case his heir, the younger Lawrence, did not marry – and he had urged him to marry – the estates should descend to plaintiff. The reply should have been crushing. It alleged that William's father had been apprenticed in the woollen trade to George Lowe of London, but had turned out badly, contracting debts to pay which his brother Lawrence (the younger) had in 1614 entered into an obligation for £1000. This resulted in the ruin of the family, a mortgage to Humphrey Chetham, and then the sales to Norris.<![if !supportFootnotes]>[xi]<![endif]>
Some letters of William Brownlow's have been preserved, showing his anxiety to secure a share in the inheritance on almost any terms.<![if !supportFootnotes]>[xii]<![endif]> The first reads thus:-
John Weake, My love remembred, this is to intreat you according to your promis to make them acquainted (my Unckle and Christopher Norres) what I tould you in your sellers: First, that is, I doe confesse my selfe in afault unto myn Unckle euery waie, and desire that for this which is done and paste, he would be pleased to forgiue freely from his harte, and not to beleiue euery Idle tale that it tould against mee, except he know them to be true; and if that I doe deserue correction that he would be pleased as afather to correct mee, and I wilbe as asonne obedient to him commandment. Likewise that he would be pleased for to giue mee ahundreth powndes at his dessease, and Christopher Norrse as much liwise at his dissease, paing into mee untill then viij powndes ayeare, and to giue mee good securitie for the some it selfe, towardes the maintaining og mee heir after, and in the meane tyme I to dwell with my Unckle and to be as aseruant unto him, which I wilbe with all my harte, and for my clothes and meat I wilbe content with worse. And if they wilbe pleased this to doe, what state some euer that I haue in the Land or euer like to haue, lesse or more, with so doing as abousaid I will make it unto Christopher Norres for euer, and God giue him good of it. Good John, le mee intreat you to plead for mee like a noble Layer, and like as the cake were your owne. If the be not willinge to doe as you haue red, then they would le mee haue noe blame for this. Thus hoping you will not faile what you haue promised I reste - Yours to command to his power, William Brownlow

Wood, the xxjth of June 1637
Endorsed - To his loving friend John Weake giue this.
The following, written a month later, is without address or signature, but is obviously from the same William Brownlow to his uncle Lawrence. While his father was bent on prosecuting the suit William was trying to make friends:-
Loving Unckle, This is to let you Understand I receaved aletter from my father uppon Frydaie last, the effecte whereof is this - for to speake unto you and Christopher Norres concerning his commissioners against the daie appointed.. For my owne knowe I neuer wilbe. Loving Unckle, this is to intreat you, and Chr. Norres, that you would be pleased to giue unto mee either of you 100 powndes if it be possible. The reason is this: with soe much monie I could haue amatch that would make mee agentleman as longe as I liued. Therfore, good Unckle, take some pittie of mee, thoe undeserued. Likewise I would intreat you to moue Chr. Norres in this busines, for aworde of you would doe more with him that all the parishe besides. Good Unckle, tread all my former faultes downe; I will promise to amend my life; let them not at this tyme be laied in mie dish. Let mee not be quite cast awaie. Thus hoping you will consider of it and proue alouing Unckle I rest.
July 23d
Lawrence Brownlow died about February the following year<![if !supportFootnotes]>[xiii]<![endif]>, though the Bolton registers (as printed in the Weekly Journal) do not record his burial. Christopher Norris, according to the remainder above mentioned, was to succeed him, and accordingly a rental for 20th July, 1639<![if !supportFootnotes]>[xiv]<![endif]>, shows that the rents were paid to him.
William Brownlow meantime was pursuing his claims. The next letter appears to show that he had been befriended by one of his uncles and then fallen out with him - probably it was the "uncle Walmsley" of the latter epistle, viz. Henry Walmeley, who had married William's aunt, Alice Brownlow:-
---
Coozin Richard, My love remembered. I expect an answer, according to your promise; for I am fully resolved with my selfe, if wee can agree, to haue an end. I do not like to be my Unckle's man anie longer. Wee are in amanner fallen out. He would haue mee to seale him abonde for all chargs trespassed hitherto and for the tyme to come, and for the tyme future I consented but noe further; and he is almost mad, and I care as little for you proue my friend. Therefore, good coozen, doe your best, which I hope you will, an if God once enable mee I will requite your kindnes. Thus, hoping you will not faile, I comitt you to God, and rest - Your coozen to his power
William Brownlowe
(seal, a griphon)
September 16th: 1638
Endorsed - To his lovinge coosen Richard Wood the elder theise d'd
Endorsed - I Richard Wood [receued] this letter according to the Indorsemente hereof from Will'm Brownlowe, which I will . . . . . Richard Wood
---
Christopher Norres, I had purposed according to my promise to haue comme over, but things haue gallen out otherwaies then a expected. To tell you the truth, my Uncle Walmsley hath brought a privie seale for you, unknowne to mee, and as he tells mee it hath cost him noe little mony this last terme - I maie not for shame speak what - soe that I am indebted verie much unto him. Neverthelesse, for my own parte, I could I wishe some loving end to be made betwixt us. If you would be pleased to take all things into consideracions and give mee 300li, I would take you as afather unto mee, and what writtings are in my custodie you shall haue them all or anie thing that lies in my power you shall command. Therfore consider with yourselfe, and if you doe like of this I will come over at the receipt of you answer. I am verie loath that any suit should be raised, for agreat deale of mony is soone spent, besides discord that will remaine. My Uncle Walmsley does intend to come over within this fortnet, to talke with you concerning the land, and does intend to sarve you. But if you doe like of this [my proposal], which I would wishe you maie, I would intreat you to send some speedy messenger and I will come over with him an end to be made. Buy my noe meanes let my Uncle have any Knowledge of this. And if you be not willing of this, I desire that wee maie goe one in a fare legall course with out any malice. Thus hoping you will except of this, wishing it from the bottome of my harte, with my love remembered, I committ you to God and rest - Yours to command,
William Brownlow
(seal)
3d of Janu. 1639 [1638/9.]<![if !supportFootnotes]>[xv]<![endif]>
Endorsed - To his freind Cro'fer Norris giue this.
Endorsed - Will. Brownlowe
William Brownlow came of age between 5th May, 1638, and 12th February, 1638/9, when he began a new suit against Christopher Norris and his son, Alexander, which went on for ten years or more, with what result is not known.<![if !supportFootnotes]>[xvi]<![endif]>
Alexander Norris was described as of "the Wood in Tonge" during his father's lifetime as early as 2nd September, 1638<![if !supportFootnotes]>[xvii]<![endif]>. The Huntroyde Deeds contain evidence to confirm Mr. Irvine's suggestion, put forward on the strength of a passage in Christopher Norris's will, that Alexander had advanced money to his father to pay for the Browlow estates<![if !supportFootnotes]>[xviii]<![endif]>. Christopher Norris himself died on 22nd December, 1639, seised of Hall i' th' Wood.<![if !supportFootnotes]>[xix]<![endif]>
The Brownlows seem to have been Puritans in religion, using such Christian names as Josiah and Nehemiah.
As to Lawrence Brownlow's kinsmen, an interesting question arises from the entry of the burial of one Lawrence Brownlow, gent., at Liverpool on 18th January, 1672/3<![if !supportFootnotes]>[xx]<![endif]>. He is evidently the "Alderman Brownlow, of Leverpoole, a young man who had been maior the year before," and a young man of note, whose death in 1672/3 was recorded by the squire of Little Crosby.<![if !supportFootnotes]>[xxi]<![endif]> He had married Rebecca Bird at Liverpool by license on 26th June 1665; and she was buried there on 27th September 1686.<![if !supportFootnotes]>[xxii]<![endif]>
Richard Brownlow, Prothonotary of the Common Pleas in 1614, is named in one of the documents in the case of Brownlow v. Brownlow and Norris. According to the Dictionary of National Biography he was the son of John Brownlow of High Holborn and born in 1553. He would therefore be a contemporary of Lawrence the father, and a note in the printed Visitation of 1613 states that the son Lawrence Brownlow of Tonge was living with "Mr. Brownlow" - probably the prothonotary. There may thus have been some family connexion.
I.
Tonge Deeds at Huntroyde, No. 27.
Articles of Agreement (indented) between Lawrance Brownlowe of Tonge, within the parish of Boulton in the Mores, gentleman, and Christofer Norres of Boulton, woolendraper; 22nd October, II Charles I [1635]
1. L. B. will convey to William Farrington of Wueren and other trustees the manor of Tonge, with all rights, &c., the capital messuage or mansion-house commonly known as the Hall of the Wood, another capital messuage called Lower Wood Hall (lately occupied by Lawrance Browlowe deceased, father to the said L. B., and now by L.B. ), the water corn-mill and kiln in Tonge, other messuages lands &c., in Turton, Boulton, and Tonge, occupied by L.B., John Thweat, Ellis Ouldham, James Key, Nicholas Mather, Josia Brownlowe, Lawrance Crompton, Scowcroft Townley, Ellis Bradshaw, Richard Crompton, John Crompton of Boulton, John Wood, Lawrance Fogge, Roger Roscowe, Richard Viccars, Richard Greenhalgh, Davie Marshe, Thomas Morris, Gyles Lomax, James Roscowe, Robert Boulton, Myles Booth, John Laithwood, John Chatborne, Arthure Smith, Richard Morris, Thomas Carlell, Robert Brereley, William Bromiley, Thomas Ward, Ellis Ainsworth, Lawrance Bradshawe, William Shuttleworth, and John Davenport. L.B. to have certain rights, including the mining of "coles or cannell." The reversion of all on his death to be to C.N.
2. C.N. gives £1000
3. L.B. to keep the capital messuages and mill in repair
4. C.N. or his heirs to occupy all after L.B.'s death
5. L.B. during his life to pay all charges and taxes due from the estate.
The deed was dated, &c., in the presence of Robeart Norres, William Seddonn, and William Charnocke. A note on the part of the indenture signed by L.B. states that it was produced at Blackburn on 14th April, 1642, at the execution of a commission before John Talbot, John Braddyll, and William Vernonn.
Another Huntroyde Deed (B82) is a bond of the same date as above from Christopher Norres of Bolton, woollen draper, to Lawrence Brownlowe, of Tonge, gentleman, in £2000, to observe the articles. "Robeart Norres" was a witness.
II.
Tonge Deeds at Huntroyde, No. 28
Declaration by Sir Raphe Ashton of Whalley, bart., dated 1st March , 1636/7, that whereas Laurence Browlowe of Tonge, gent., deceased, had on the 9th June, 1617, agreed with the said R.A. (then being R.A. of Great Leaver, esq.), Radcliffe Ashton, esq., his brother, and Richard Crosse of Liverpoole, esq. (since deceased), to convey and assure to them all his lands, &c., in Bolton uppon the Moores, Tonge, and Turton, reserving power to change the uses, &c., intended upon payment of 5s. to the said feofees, the feofees having power also to change the uses, &c., on payment of 6s. 8d. after L.B.'s death but during the life of his son Laurence Brownlowe: the surviving feofees (Sir. R.A. and Radcliffe A.) had that day paid 6s. 8d. to Thomas Holcrofte of Snythill, gent., to the use of L.B.'s heirs of the said L.B. deceased.
Endorsed with the signature of Tho. Holcroft and five witnesses: Ra. Worthington, Josiah Brownlowe, John Cowton, Tho. Whalley, and Thomas Mitton.
III.
Tonge Deeds at Huntroyde, No. 29
Indenture by which Laurence Brownlowe of Tonge, gent., grants to Christopher Norres of Bolton in the Mores, woollen draper, all his lands, mills, &c., in Tonge, Turton, and Bolton, having received £1100 from C.N. Dated 2nd March, 1636/7.
Sealed, &c., in the presence of Ra. Worthington, Josiah Brownlowe, Thomas Mitton, and Tho. Holcrofte.
Endorsed is a memorandum that on 4th March 1636/7, Alexander Norres, son of C.N., attorned the indenture, and paid 6d. to Raphe Worthington, esq., to the use of C.N.
IV.
Tonge Deeds at Huntroyde, No. 30
Indenture by which L.B. (as above) for £1100 grants to C.N. the manor of the lordship of Tonge, with capital messuages, &c. ( as in I. above); also a messuage in the occupation of Josiah Browlowe, gent., a fullling mill in the occupation of Alice Crompton, widow of Laurence C. deceased, with other tenements held by Scowcroft Towneley, Ellis Bradshawe, Jenett Crompton (widow of Richard C.), Jennet Crompton (widow of John C.), Robert Whittell, Jane Fogge widow, Roger Roscowe, Ann Viccars widow, Katherine Greenhalghe widow, John Greenhalghe, Thomas Norres, Gyles Lomaxe, James Roscowe, Margerie Boulton widow, Myles Boothe, the same for Alexander Sharples alias Ward's holding, John Crompton, John Walwarke, John Chatborne, Arthur Smith, John Butterfeild, Margerie Caelell widow, Ellis Ainsworth (rent 4s. 3d. and 4d. for tithe corn), Elin Brereley widow, William Bromiley, Thomas Sharples, William Shuttleworth, John Dampford, Richard Isherwood, all of the above being in Tonge; in Turton Susan Mather widow; in Bolton, lately Alexander Ward alias Sharples, deceased, now of Lawrance Brownlowe, John Thwait, George Scoles, James Kay, and Lawrance Bradshawe. Dated 10th March 1636/7
Signed Law: Brownlowe. Armorial seal (a lion rampant)
Endorsed are memoranda of seisen given by Laurence Brownlow in person to Christopher Norres at the Lower Wood Hall on the same day; and of attornments by Josiah Brownlowe and other tenants, who paid 6d. each to C.N.
V.
Tonge Deeds at Huntroyde, No. 31
Attornment, dated 12th March 1636/7, by Josiah Brownlowe, Scowcroft Townley, and others (26 in all) to Christopher Norres for the purposes of a common recovery.
VI.
Tonge Deeds at Huntroyde, No. 32
Release by Sir Raphe Ashton to Christopher Norres of all interest in the lands, &c., in Tonge conveyed by Laurence Brownlowe to C.N. Dated 14th March 1636/7.
Signed Raphe Ashton
Sealed, &c., in the presence of Richard Assheton, E. Pollarde, John Cowton
VII.
Tonge Deeds at Huntroyde, No. 33
Indenture dated 16th March, 1636/7, between (1) Lawrance Browlowe of Tonge, (2) Christofer Norris of Bolton, and (3) Thomas Mort of Peele in Hulton and Adam Mort of Preston, for the completion of the articles of agreement dated 22nd October, 1635 (No. I. above). A common recovery was to be suffered before the feast of Easter next ensuing. The Hall of the Woode, &c., to be held for the use of Laurance Brownlowe for his life, and then to the use of Christofer Norris, his heirs and assigns for ever. The provisoes in No. I. are repeated.
Witnesses for Lawr. Browlowe - Bernard Townley, Tho. Leaver, John (IF) Fisher, William Sanderson, John Wyke
For Thomas Mort - James Siddall, William Bromiley, Raphe Norres, William Sharrocke
For Adam Mort - Thomas Werden, Tho. Assheton, John Haworth
VIII.
Tonge Deeds at Huntroyde, No. 38
Final Concord at Lancaster on Monday in the fifth week of Lent, 13 Charles I., before Sir George Vernon and Sir Robert Barkeley, justices.
Christopher Norres v. Lawrence Brownlow, gent., re 40 messuages, &c., in Tonge, Turton , and Bolton in le Mores, £966, 13s. 4d.
IX.
Tonge Deeds at Huntroyde, No. 39
Record of the recovery at Lancaster on Monday in the fifth week of Lent, 13 Charles I., before Sir George Vernon and Sir Robert Barkeley, judges.
Thomas Mort and Adam Mort v. Christofer Norres re 40 messuages, &c., in Tonge, Turton, and Bolton in le Mores. Lawrence Brownlowe, gent., called to warranty defendant.
The plaintiffs recover (see No. VII.) and the sheriff, Richard Shuttleworth, is ordered (30th March, 13 Charles I., i.e. 1637) to cause them to have seisen.
<![if !supportEndnotes]>

---
<![endif]>