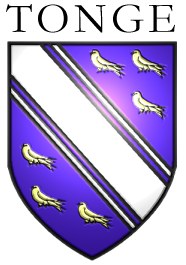 | | |
| --- | --- |
| | Home - Back to main page |
| | Index - Full contents list including primary and secondary source documents |
| | Genealogies - Several different Tonge family histories contributed by other researchers |
| | Search Site |
TONG, Richard de : Burke's Extinct Baronetcies - p521. Footnote to 'Tempest, of Tong' - created 25th May 1664 - Extinct 29th Jan 1819. [Thanks to Karl Tonge for sending me this article]

Richard de Tong held the manor of Tong in 1194 of Hugh Neville, of Brearley, as lord of the fee, and it continued in his family until the reign on Henry VI when Hugh de Tong, left an only daughter and heiress, Margaret de Tong, who conveyed the lordship of Tong to her husband, Robert, son and heir of William Mirfield, esq. of Howley Hall in the county of York.

The great-grandson of this marriage, Christopher Mirfield, esq. of Tong Hall, m. Elizabeth, daughter of Arthur Pilkington, esq. of Bradley, and left at her decease, in 1557, an only daughter and heiress, Ellinor Mirfield, who m. Henry Tempest. Burke's Commoners.