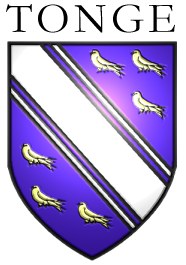 | | |
| --- | --- |
| | Home - Back to main page |
| | Index - Full contents list including primary and secondary source documents |
| | Genealogies - Several different Tonge family histories contributed by other researchers |
| | Search Site |
TONGE, Nicholas :
of Manningham. Extract from Manningham, Heaton & Allerton, William Cudworth, 1896. History of Manningham. Pg 129-130
MANNINGHAM OLD HALL
The Old Hall at Manningham, of which an accurate drawing is given, has long since disappeared. It stood near the top of Marlborough Road, which was constructed in 1854. The only approach from Manningham (or Low) Lane prior to that period was by way of Cowgill (or Coggill) Lane. This lane was considerably nearer Belle Vue than the present Marlborough Road, and was very narrow, with large trees growing on each side. Several of these trees are still standing. Cowgill Lane was bordered on the south the Tonglands, the property of the Bollings of Manningham and Ilkley, which afterwards came into the possession, by marriage, of Richard Margerison, of Manningham.
There is abundant work for the antiquary in tracing the history of Manningham Old Hall and its several owners and occupiers. Nicholas Tonge was one of the four hundred men able to furnish horse and harness within the liberty of Bradford in the muster-roll temp Henry VIII., and he was one of six whom the township of Manningham was able to present. In the oldest survey extant the Tonglands comprised three oxgangs, of 44a. 1r. 23p., scattered in various parts of the township. The two closes of four acres each, known distinctively by the name of Tonglands, appear to have come into the possession of the Bollings, as well as a portion of Bolton Royds and other lands.