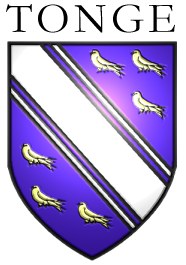 | | |
| --- | --- |
| | Home - Back to main page |
| | Index - Full contents list including primary and secondary source documents |
| | Genealogies - Several different Tonge family histories contributed by other researchers |
| | Search Site |
TONGE of Bolton : References to John son of Elias de Tong, and Alexander de Tong of Pleasington, his brother, from VCH published on http://www.british-history.ac.uk/


---

A History of the County of Lancaster: Volume 6
William Farrer & J. Brownbill (editors)
1911 Pages 266-269

PLEASINGTON
Plesinton, 1208, xiii cent.; Plessington, Plesyngton, xiii-xvii cent.

The Hoghton family acquired lands here in the time of Henry III. Elias de Pleasington permitted Adam de Hoghton to establish a mill dam on his bank of the River Derwent, and Henry son of Elias de Pleasington gave lands 'between Pleasington and Hoghton' to the same Adam. The water-mill of Pleasington above named with a capital messuage was given by John son of Elias de Tong in 1328 to his brother Alexander in marriage with Alice daughter of John de Hoghton. (fn. 34) Their descendant Katherine Tong, wife of John Seed of Ribchester, gave the estate in 1426–7 to William Seed, and in 1457–8 Thomas Seed of Pleasington gave his lands and mill to Richard Hoghton, kt. (fn. 35) Included in the settlement of his estates made by James Livesey of Livesey in 1618 were the water-mill called 'Seed mylne,' formerly known as 'Tong mylne,' part of the 'mylne field,' and certain mosses or turbary lying in Tickle Moss. (fn. 36)

34 Dods. MSS. lxx, fol. 160; cxlii, fol. 23; Kuerden MS. (Chet. Lib.), fol. 397, no. 148.
35 Dods. MSS. cxlii, fol. 39b–40, 144b. One third of Thomas Seed's estates in Pleasington, Livesey and Bolton-le-Moors was awarded to George Clayton in 1478; another third part, which had descended to Thomas Sharples, was awarded to his son Gerard Sharples (Add. MS. 32109, 88), who afterwards assigned his third part to George Clayton; Kuerden fol. MS. (Chet. Coll.), 388. It passed to the Southworths and from them to the Liveseys.
36 Lancs. Inq. p.m. (Rec. Soc. Lancs. and Ches.), ii, 279.


TOCKHOLES
Tokolles, xii cent.; Tocholles, Thocholes, Tokholes, xiii-xvi cent.


Adam de Tockholes held the other moiety in 1246, in which year he and his brothers Geoffrey and Elias, or 'Ekke,' were each amerced 2 marks at Lancaster assizes for receiving those who had burned Staining Grange. (fn. 6) His successor, another Adam living in 1277, withdrew a plea in 1292, touching a tenement here, against Henry son of Henry de Whalley. In 1296 another Adam succeeded and soon after joined with John de Pleasington in granting land here called Hulkar to John de Tonge, and in 1311 they were jointly returned as holding Tockholes in thegnage for 2s. rent and doing suit at the three weeks court of Clitheroe. (fn. 7)

7 De Lacy Comp. (Chet. Soc.), 14. John de Tong gave Hulkar to Geoffrey de Cuerdale; it was described as lying beside Ernesdene Brook and bounded by Ryhil ditch; right of way was given to the common pasture of Cartelache; Norris D. (B.M.), 941–3; Lancs. Inq. and Extents (Rec. Soc. Lancs. and Ches.), ii, 11.