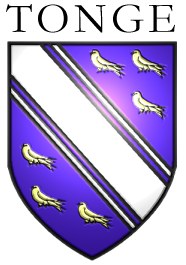 | | |
| --- | --- |
| | Home - Back to main page |
| | Index - Full contents list including primary and secondary source documents |
| | Genealogies - Several different Tonge family histories contributed by other researchers |
| | Search Site |
Entitlement to coats of arms :
Extract from the web site of The College of Heralds (http://www.college-of-arms.gov.uk/), December 2001.
There is no such thing as a 'coat of arms for a surname'. Many people of the same surname will often be entitled to completely different coats of arms, and many of that surname will be entitled to no coat of arms. Coats of arms belong to individuals. For any person to have a right to a coat of arms they must either have had it granted to them or be descended in the legitimate male line from a person to whom arms were granted or confirmed in the past.