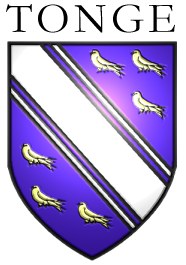 | | |
| --- | --- |
| | Home - Back to main page |
| | Index - Full contents list including primary and secondary source documents |
| | Genealogies - Several different Tonge family histories contributed by other researchers |
| | Search Site |
TONG, Ernest Harold :
Brief biographical details, passed on to
Dr.Leszek Solski of Wroclaw, Poland.
The Director of Whipsnade Zoo was called Ernest Harold Tong. Probably this is the same Ernest Harold Tong who is listed in the St. Catherine's House Index as being born in 1908, registered in Lincoln.
He was appointed as superintendent of Whipsnade Park and Zoo in 1946, and went to Regent's Park for six months preliminary work. He then went to Whipsnade to succeed Mr. W. P. B. Beal, who was retiring having been superintendent ever since the Whipsnade Zoological Park was opened in 1931.
The Times newspaper published several articles after 1949, which mention Mr. E. H. Tonge in stories relating to happenings at the zoo. These include a number of stories relating to new animals acquired (snow leopards from Moscow and an elephant and her calf which he personally collected from Ceylon) and births of various animals including puma cubs, brown bear cubs and baby rhinos. Mr. Tong also conducted a tour of Whipsnade for Prince Akihito, Crown Prince of Japan in 1953. In 1956 there was an unfortunate incident in which a young boy was mauled to death by lions, having climbed into their enclosure; Mr. Tong spoke at the subsequent enquiry.
Some of his work was published in 1958 (S.A.Proc.Zool.Soc.Lond.Vol.130, Part 2), titled "Notes on the breeding of Indian rhinoceros, rhinoceros unicornis"
He had one son by his wife, who they named Julian Roger Tong. Julian was engaged to Angela Madeline Dodds in 1966.
In 1972, E. H. Tong was the Secretary of the National Zoological Association of Great Britain, and the General Manager of Woburn Wild Animal Kingdom, Woburn Park, Bedfordshire.
Source: The Times Digital Archive