TONG(E)s of Halliwell : Ralph Tonge (d. 1805) and Alice Tonge nee Morris. Halliwell Township Book 1787-1813, Billington, B901 4B BIL, Bolton Archives
8th Feb 1816 - Alice Tonge applies for additional pay for her father William Morris, the Sawyer. Resolved that he be allowed 6d per week in addition to his 3/- on account of his sickness*1
Ralph Tong(e) was on the elected committee, and is present at meetings at Halliwell School on the following dates:
17th May 1788
14th June 1788
12th July 1788
11th October 1788
14th August 1793
26th December 1793
At the meeting on 14th August 1793, Ralph Tonge is named as a member of a new committee to "survey and tax any new erections to be made in [Halliwell]". After his death in 1805*2, he is succeeded in this capacity by Richard Yates on February 16th 1809.
Billington transcribes a document from the Gerard Manuscripts B1: "Indentures of Lease and Release, 23rd & 24th December 1801 RE: Smithills", in which Ralph Tonge is named as one of many tenants occupying land in Halliwell.
Billington notes that Ralph Tong(u)(e), Yeoman Farmer, held land close to Barrow Bridge, Longshaw Fold Road, and from his occupation of the land we obtain the modern form names of Higher and Lower Tongs.
*1 Possibly wife of Samuel Tong (m. 5th April 1790, St. Peters - needs checking)
*2 Deane By Bolton, Burial Register, 11th June 1805
---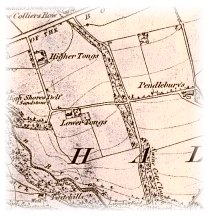 Ordinance Survey Map 1847
Halliwell & Heaton
Showing Chadwicks, Lower Tongs, Higher Tongs and Harwoods
(Large file: 1,007KB)