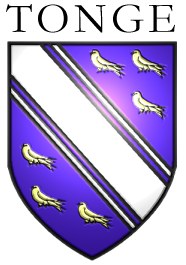 | | |
| --- | --- |
| | Home - Back to main page |
| | Index - Full contents list including primary and secondary source documents |
| | Genealogies - Several different Tonge family histories contributed by other researchers |
| | Search Site |
Tonge Hall, in the Parish of Prestwich-cum-Oldham : Paper by Henry Fishwick F.S.A, extracted from Trans. of Lancashire and Cheshire Antiquarian Society, Vol X. pp26-32, Read in 1892.
TONGE, with Alkrington, forms one of the townships in the old parish of Prestwich, and contains one thousand one hundred and fifty-five acres. The Domesday Survey has no reference to any part of the parish, and it is not until late in the fourteenth century that we find any trace of Tonge as a place name in Prestwich.
In 7 Edward II. (1313-14) a fine was levied at Westminster, between Adam de Prestwich and Thomas de Wolveley, concerning inter alia the manor of Alkrington, and in the 16 Henry VI. (1437-8) Henry de Tonge was plaintiff in a suit in which he prayed for execution of this fine ; the defendant was Robert de Langley, who was an undoubted descendant of Alice de Wolveley (sister of Thomas de Wolveley), and his plea was that Henry de Tonge was an illegitimate son, and therefore not heir to and portion of the estates of the Wolveleys. The plaintiff claimed, to be the son of Henry de Tonge, the son of Henry, the son of Thomas, the son of Alice de Wolveley. *1 This descent has been accepted by the late Canon Raines and the author of the Memorials of Prestwich Church; it is, however, not correct, as recent research shows that beyond a shadow of a doubt Thomas de Wolveley, the son of Alice de Wolveley, had issue only two daughters, one of whom married Robert de Holland and the other died unmarried. *2 Nevertheless, the Tonge family were in some way related to the Wolveleys, as will appear presently.
From the Post-Mort. Inquis. of Henry, son of Henry, son of Thomas de Alkrington, taken 12th August, 1394, it appears that he died on 27th June, 1390, seized of two messuages and certain lands in Alkrington, called Tonge, held of the duchy in fee by military service, and that Henry, his son and heir, was at the taking of the Inquis. three years old; *3 when the proof of his was given however, he was said to have been baptised at Middleton Church on the Monday after the Feast of St. Michael's 12 Richard II. (5th October 1388). *4 During his minority the estate was held by Ralph de Radcliffe. *5 This Henry was the first to be described as de Tonge, and he was father of the Henry de Tonge party to the suit just referred to in 1437-8. The correct pedigree is, therefore, as follows :-
Thomas
|
Henry
|
Henry de Alkrington
died 27th June 1390
|
Henry de Tonge
baptised 1388
|
Henry de Tonge
living 1459-60
It may be presumed that at this period, say the close of the fourteenth century, the family was settled at Tonge, and that one of the two messuages formed that family residence.
Henry de Tonge was living in 38 Henry VI. (1459-60), when Thomas de Langley, under-sherriff of the county, was accused of doing great trespass on his lands at Tonge. This Henry de Tonge had at least two sons, viz., Richard, his son and heir, and Henry; the former, in 16 Edward IV. (1476-7), granted to his brother certain houses and lands in Tonge for his life, and a few years later (1481) John de Langley became bound to him (Richard) in £100 to stand to an award concerning a messuage of land called Tong, in Alkrington, and Tong Moor; apparently the arbitration not having proved satisfactory both parties agreed to appeal to the assizes at Lancaster, when John de Langley quoted the fine of 1314, and Richard Tonge pleaded that he was cousin and heir to Thomas, son of Alice Wolveley, and the jury taking the same view he obtained the verdict. *6 Richard de Tonge died in or shortly before 1501 seized of messuages and land in Tonge, and his son and heir was Thomas de Tonge. then aged eighteen years. *7 This Thomas Tonge died 16th February 1542, and at the time of his death he held in fee three messuages, fifty acres of land, six acres of meadow, four acres of wood,, and one hundred acres of moss and moor, called Tonge Moor; he held the whole of the king as of the duchy for the hundredth part of a knight's fee; his son and heir was John Tonge, then aged thirty years. *8 John Tonge married Dorothy, daughter of Roger Downes, Esq., in 1547. *9
John Tonge died 31st July, 5 Edward VI. (1551), leaving a will dated 13th June in the same year, in which he is described as "of Tonge, Gentleman," and, after reciting that he held his messuage and lands in Tonge of the king as part of the duchy by knight's service and the hundredth part of a Knight's fee, he sets forth that he had by his deed granted and conveyed to Robert Downes, John Downes, Lawrence Downes, and Sir Richard Thyrlwynde, clerk, certain lands in trust for Dorothy Downes, daughter of Roger Downes, Esq., for his life, with the remainder to Ellen, Dorothy, and Johannah Tonge, his three daughters, and also land, being on the heights of Tonge, called the Hardfelt, with the garden, houses &c., belonging him, to be held until his son Richard attained his majority; to Richard Tonge, his half brother, he left sufficient moss and torves within his moss of Tonge, "yerely to bron wth his house," also thirty "lodes of torves" annually.
Richard, the son of John, was at this time only two years old. *10 Richard Tonge died 10th November 12 Elizabeth (1570), when he was only just of age, leaving a son Christopher, aged two years, *11 during whose minority the estate was granted to Gilbert Sherrington, gentleman, who released the same to Thomas Leigh, of Alcrington, gentleman. In the life of the young heir to the Tonge estate there was a somewhat romantic episode, the particulars of which are recited in a deed dated in the 32 Elizabeth (1589-90), which sets forth that Thomas Leigh, having the wardship of Christopher Tonge, and "not having the fear of God before his eyes," "by threats and other ways," gave "Christopher Tonge to understand that Peter Heywood, of Heywood, his Uncle, would do nothing for him, whereby his lands would be lost," and thus prevailed upon him, when only fifteen years of age, to marry a "notorious harlot," one Katherine Jackson, by whom he himself had had several children. Where upon Peter Heywood, on behalf of Christopher Tonge, exhibited a bill of complaint in the Court of Wards, and called witness to prove the inconsistency of Katherine Jackson, alias Tonge, and, the Bishop of Chester's attention being drawn to the case, a divorce was granted in 1583. *12 Some few years afterwards Christopher Tonge married Jane, the daughter of William Bamford, of Bamford, gentleman, and in 1590, to secure his wife's jointure and prevent the children of Katherine, his former wife, inheriting his lands, he settled his estates on his father-in-law, William Bamford, and his brother-in-law, William Bamford, to certain uses. *13
Christopher Tonge died 10th February, 43 Elizabeth (1601). No will has been discovered, but shortly before his death he made a bill of sale of his goods and chattels to Emer Bamford, in trust for the uses of his will. His son and heir was Richard Tonge, who was then three years old. *14 The Tonges at this time were evidently not long lived. Jane, the widow of Christopher Tonge, married in 1612 Geoffrey Holcroft, of Hurst, esquire. The wardship of Richard was granted by the queen in 1601 to Samuel Bamford. *15
In 1601 there was a dispute in the Duchy Court, between Robert Holt and Emer Bamford and Ralph Hilton and others. The plaintiff claimed to hold a messuage and twelve acres of land in Tonge by lease for twenty-one years, which the late Christopher Tonge had granted to him, dated 4th February, 1601 (a few days before his death), but they alleged that the defendants, having by "sinister means" got hold of the parchments, had entered on the premises and dispossessed them. The defendants claimed that Rauf Hilton and Jane Hilton, his mother, who was eighty years old, had long occupied the house and twelve acres of land in question, but that as to the land it was "very barren, corse more land," and was hardly worth the rent they paid for it, viz., 18s. 8d. a year.
Richard Tonge lived to attain as greater age than his predecessors; he was buried at Middleton, 3rd April, 1678, and his estate passed to his son Jonathan Tonge, of Tonge Hall, who, in 1664, recorded a pedigree of four generations at the Visitation of Sir William Dugdale; he was buried at Middleton, 12th November, 1683, leaving issue a son, Richard, who also lived at Tonge, and early in the eighteenth century rebuilt or altered certain parts of the hall, as his initials with the date 1703 appear on some of the ornamental lead downspouts; he died in May, 1713, was buried at Middleton, and his will was proved at Chester. Although in his will he mentions his newly purchased lands in Hopwood, he appears to have died insolvent as all the executors refused to act, and on 7th August, 1713, administration was granted to Henry Dickanson, a principal creditor, and in 1720 administration was granted to Thomas Kenion, *16 of Manchester, gentleman, of the goods left unadministered to by Henry Dickanson, then deceased. *17 Richard Tonge was twice married, by the first wife he had issue one daughter, who married Henry Townley, an attorney; by the second marriage he had two sons, Jonathan and Thomas, the former in 1725 demised his estate by will (which does not appear to have been proved) to his brother Thomas, with instructions that the already heavily mortgaged estates were to be sold, and accordingly in 1726 they were purchased by John Starkey, and thus passed away from the family the acres which for so many generations they had held. Thomas Tonge was buried at Middleton 14th January, 1744, and left issue.
The Hall of Tonge, after passing through several hands, is now again in the possession of a descendant of the old stock, Mr. Ashton Tonge, of Alderley, having recently purchased it. The Christian name of Ashton was a favourite one with the Tonges in the seventeenth century, and probably arose from an intermarriage with the Ashton family.
Tonge Hall, as late as 1865, was a very fair specimen of the black-and-white three-garbed style of domestic architecture, so common in the time of Elizabeth; it presented a somewhat peculiar feature in the continuous repetition of the quatrefoils in the walls, without a break in the form of "strutts" or "standards," which has led some critics to say that its uniformity was too pronounced. *18 A large portion of this building has been pulled down, and what remains is used as a farm-house. The lead work of some of the ancient, beautifully designed windows is still intact; and there is still left one room with its oak paneling, dating back perhaps to the early part of the seventeenth century.
Although Tonge Hall was probably never the scene of any striking historical event, and its owners were not leaders of men, yet it is well that of them and their ancestral home the Antiquarian Society of Lancashire and Cheshire should preserve some record, so that when, perhaps, every vestige of the old building is swept away something of its history shall be found embalmed in the leaves of our Transactions.
---
*1 Lanc. Inquisitions. Townley MSS., p. 508,'No. 2,163, and No. 2,097; and Raines MSS., xiii. 172.
*2 Lanc. Inquis. Townley MSS., p. 508; No 2,168, D. fo. 9, and p.76, No. 199.
*3 Lanc. Inquis. Townley MSS., p. 473, No. 2,097, D. fo. 14.
*4 Lanc. Inquis. Townley MSS., p. 505, No. 2,151, D. fo. 23
*5 Rot. Pat. Joh'es Duc. Lanc.
*6 Title Deeds
*7 Inq. Post-Mort., 17 Henry VII., No. 81, Record Office
*8 Inq. Post-Mort., 34 Henry VIII., Record Office
*9 Title Deeds, Marriage Settlement
*10 Duchy Records. Inq. Post-Mort., Edward VI., ix. 7.
*11 Duchy Records. Inq. Post-Mort., Elizabeth, xii. 9.
*12 Title Deeds. Raines MSS., xiii. 174. Mention is made of his two aunts, Jane Tonge and Ellen ---?
*13 Title Deeds.
*14 Inq. Post-Mort., Elizabeth.
*15 Title Deeds
*16 Record Office, Duchy Pleadings, Elizabeth, clxiii., H4 and H4a.
*17 Title Deeds.
*18 See Rimmer's Rambles around Manchester, p. 198.