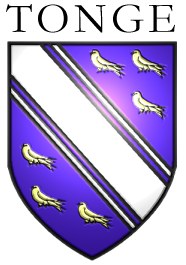 | | |
| --- | --- |
| | Home - Back to main page |
| | Index - Full contents list including primary and secondary source documents |
| | Genealogies - Several different Tonge family histories contributed by other researchers |
| | Search Site |
TONG, Henry :
Died 1613. Lancs. Inq. Stuart Period, Part 1, Vol. 3, Record Society.
Henry Toong, of Farnworth, Gentleman
Inquisition taken at Boulton on the moors, 1 March 11 James [1613 - 14] before Edward Rigbye, Esq., Escheator, after the death of Henry Toong of Farnworth, gentleman, by the oath of John Wood of Broad oak, gentleman, and the other jurors named in the previous Inquisition [Alexander Leaver], who say that the said Henry was seised in fee of 3 messuages, 3 gardens, one orchard, 15 acres of land, 5 acres of meadow, 5 acres of pasture, 2 acres of moss and 12 acres of moor with the appurtances in Farnworth, Kersley and Worlsey; which are held of Rouldand Mosley, Esq., as of his manor of Manchester, in free socage, and are worth per ann. (clear) 26s 8d.
Henry Toong died 15 January last [1613-14]; and John Toong, his brother and next heir, at the time of Henry's death was aged 26 years and more.
Note: John Tonge of Farnworth was recorded as a juror on a number of subsequent inquisitions between 1614 and 1617:
1614 James Chethame of Nuthurst
1615 Ralph Entwisle of Edgeworth
1617 Robert Bearcliffe, yeoman
1617 Francis Holte, of Griselhurst, Esq.