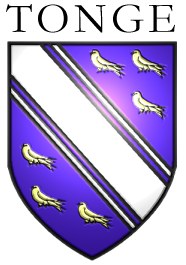 | | |
| --- | --- |
| | Home - Back to main page |
| | Index - Full contents list including primary and secondary source documents |
| | Genealogies - Several different Tonge family histories contributed by other researchers |
| | Search Site |
Heraldic Visitations - What were they?
: Extract from the Local Historian's Encyclopedia.
General. Heraldry, or more properly Armory, began in England in the 12th Century. Most probably it arose from the need to identify important individuals when they were in armour and their faces obscured. By the 13th century armorial bearings were applied to the linen surcoat over the armour, and from this came the term 'coat of arms'. In addition crests were emblazoned on helmets.
By the 14th century the number of families entitled to bear arms had grown to the extent that the heralds, who supervised tournaments etc, were given the responsibility for regulating the design and the wearing of armorial bearings. This duty was consolidated in 1485 in the College of Heralds. By then bearings had become hereditary.
College of Arms. The College, alternatively called the College of Heralds, was established 1485; it is responsible for the granting, control and confirmation of coats-of-arms in England. At it's head is the Earl Marshal, an hereditary title held by the Duke of Norfolk. He has thirteen principal officers: three Kings of Arms - Garter, Clarenceux and Norroy, six heralds - Chester, Lancaster, Somerset, Richmond, Windsor and York, and four pursuivants - Rouge Croix, Rouge Dragon, Portcullis and Bluemantle. The Harleian Society has printed lists of those who received grants of arms from 1687 - 1898.
Visitations. From 1529/30 the College of Arms made visitations to parts of the country to establish if coats-of-arms were being used correctly, and also to investigate new applications. The last visitation was in 1686. Many of the visitation records have been printed by the Harleian Society.
Pg. 213, The Local Historian's Encyclopedia,
John Richardson, 1974
Historical Publications
ISBN 0 9503656 7 X