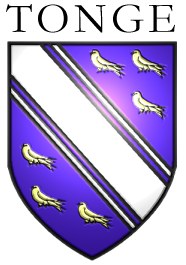 | | |
| --- | --- |
| | Home - Back to main page |
| | Index - Full contents list including primary and secondary source documents |
| | Genealogies - Several different Tonge family histories contributed by other researchers |
| | Search Site |
Tonge Hall - Extract from Middleton Matters :
Extract from "Tonge Hall: The House and it's Families", Morris Garratt, p18, Middleton Matters, Middleton Civic Association, 1990. ISBN 0 9516788 0 9. Printed by British Vita plc., Oldham Road, Middleton and Middleton Civic Association, January 1991.
The use of the word 'dismantled' in the Victoria County History description suggested to at least one local writer that the Hall had actually fallen down, and that a new hall, smaller than the original one, had been built on the same site, by Richard and Alice Tonge in 1703. *4 Their TRA and the 1703 date, were on the lead spout heads in different parts of the building: and the intials R.T were also on the latch-plate in one of the barns, and in yellow stain on one of the leaded quarries of the windows. Rather the term 'dismantled' in this context is used to make the point that the hall was 'unoccupied and unused and bereft of furnishings'. *5 George Shaw's drawing (1845) points to the existence of a former west wing. A clue to the disappearance of the wing comes from the local newspaper, which recounts the story of 'an esteemed Middletonian' who had 'a narrow escape of his life by a fall of debris which occurred at the hall some fifty years' ago (i.e. c. 1852) *6
Mr. Isaac Huddleston, father of Mr. Isaac Huddleston, Manchester New Road, Middleton, had become tenant of the hall. The main entrance of the building used formerly to be on the side of Dane House, the residence of Miss. Schofield. The old oak door that did duty for many years is still in existence. Like many others, Mr. Huddleston was fond of poultry keeping. A portion of the hall being in disuse, it made an excellent hen run. Returning one day from collecting the eggs, he was suddenly startled by a rumbling noise. He pulled the door to, and had not got many yards when the whole end of the place collapsed. Had Mr Huddleston been a minute later he would have been buried beneath the debris.
---
4. Joe Pimlott, 'Tonge Hall and its history', Middleton Guardian, January 12, 1973
5. W. J. Smith, in a letter to the Middleton Guardian, February 1973
6. Middleton Guardian, September 27, 1902