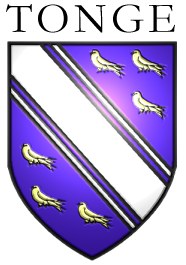 | | |
| --- | --- |
| | Home - Back to main page |
| | Index - Full contents list including primary and secondary source documents |
| | Genealogies - Several different Tonge family histories contributed by other researchers |
| | Search Site |
TONGE, James :
(1897 - 1967) Brief biographical details gleaned from discussions with his son Geoffrey (my grand father). Stephen James Tonge, Nov. 2006.


James Tonge (1897 - 1967)
James Tonge was born on the 7th December 1897, in the same row of cottages as his father had been at Bottom oth' Moor in Ainsworth. He was the only son of Albert Ernest and Elizabeth Jane Tonge (nee Street-Taylor). He was schooled at Cockey Moor until the age of fourteen when he left and became apprenticed to a sign-writer.

In about 1916 he was called up to fight in the war. He fought with the Kings Liverpool Regiment in the trenches at Vimy Ridge, and later at Ypres where many of his fellow English men were massacred. Here he suffered mustard-gas poisoning and had one lung removed in a field hospital. He was then sent home to Watermillock, Crompton Way to recuperate.

After the war he went into partnership and set up the sign-writing firm - 'Evans & Tonge'. The premises was situated on the corner of Deansgate and Marsden Road in Bolton town centre. The partnership dissolved after a disagreement.

On September 25th 1922 he married Jane 'Jenny' Wright at St. James, Breightmet and they moved into 7 Priory Place, Tonge Moor. Here their two sons were born; Geoffrey and James Brian.

Their next move took them to 55 Thicketford Rd., where they opened a grocery store, which is still there today. Another move took them to Cromer Avenue, Tonge Park; and then again onto 92 Bradshaw Brow, where he opened a shop selling bicycles and wireless sets. This business was closed with the out-break of the Second World War, when radio use by civilians was severely restricted. Again they moved, this time to Tonge Park Avenue, when he worked as a display artist for Lewis' at Manchester.

In about 1950 he and his wife moved down to Dartington Hall in Cornwall. Here they worked for American millionaire Leonard Elmhurst, Jim doing art-work and general handy work in and around the hall, and Jenny cooking for and looking after the gardeners.

Yet another move took them to Totnes where they ran 'Brutus Studio', a store selling gifts and fancy goods. Then on to Compton Leigh House, a very large house at Higher Compton, Plymouth.

When his aunt, Hannah Rushton (nee Street-Taylor) died in the 1960s he was the sole beneficiary, and with the proceeds from her will, had a bungalow built at Keverall Gardens.

On the 26th February 1967, he died at Freedom Fields Hospital, Plymouth, of several lung related diseases which were undoubtedly aggravated by the fact that he had been a heavy smoker nearly all his life.

James Tonge was a diabetic and throughout most of his life had required medical attention. Long before his death, he requested that his body be given to further medical science. Accordingly it was donated to Bristol University's medical department.