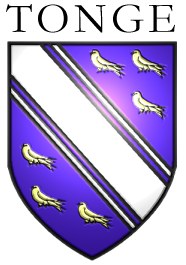 | | |
| --- | --- |
| | Home - Back to main page |
| | Index - Full contents list including primary and secondary source documents |
| | Genealogies - Several different Tonge family histories contributed by other researchers |
| | Search Site |
TONG, James : James Tong of Farnworth, Snr., Yeoman. Will. 1786.

James Tong of Farnworth, Snr., Yeoman
Debts owed by son James Tonge; £40 to Alice Tong of Farnworth, wife of Robert Tong; £5 16s to Roger Taylor of Ringley, butcher; £5 10s to Robert Loton of Farnworth, farmer, £5 10s
1s each to his children, Ann Markland, wife of John Markland of Bolton, and Ralph Tong of Farnworth, having already had their share.
Daughter Betty Chadwick, freehold estate by indenture of lease under late William Hulton of Hulton
James Tong, son, 1s
Grandsons: John & James Tong £5
Daughters: Margaret Green, Mary Norris, Jenny France?
Exos: Ralph Tong, son in law John Markland, James Barton of Farnworth, Yeoman
Dated 30th Dec. 1786
Witnesses: James Jackson, Peter Lomax, John Orrell
Probate issued July 14th 1787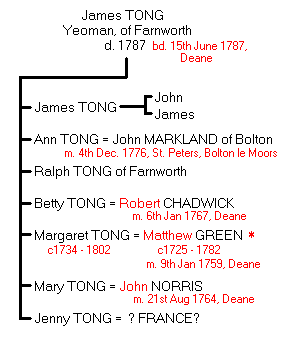 * Deane monunmental inscriptions
Full Transcript:
IN THE NAME OF GOD AMEN, I, James Tong of Farnworth, Senior, in the County Plantine of Lancaster, Yeoman, being of Sound mind, memory and understanding at this present Time, Blessed be Almighty God for the same, but calling to mind the uncertainty of this Mortal Life do for the setling my Worldly affairs make publish and Declare this alone to be my last Will and Tetament in manner and form following, that is to say, first, I order and direct that all my just Debts, funeral expenses and probate of this my Last Will and Testament be first Paid and Discharged out of my Personal Estate by my Executors herein after named.
THEN I order and Direct my Executors herein after named within the space of Six Months next after my decease to pay unto Alice Tong of Farnworth aforesaid Wife of Robert Tong the Sum of Forty Pounds, and unto Roger Taylor of Ringley, in the said County of Lancaster, Butcher, the sum of Five Pounds, Sixteen Shillings, and unto Robert Loton of Farnworth aforesaid, Farmer, the Sum of Five Pounds , Ten Shillings, these being debts formerly contracted by my Son James Tong
NEXT I give and Bequeath unto Ann Markland the Wife [of] John Markland of Bolton, in the county aforesaid and unto my son Ralph Tong of Farnworth aforesaid, Each the sum of one shilling, they having at Sunday Times Received from me their Equivalent share of what I give and Bequeath and devise unto my other children.
THEN, next also I give and devise and Bequeath unto my Daughter Betty Chadwick her Heirs and Assigns All my Rights, Title, property claim and Demand whatsoever of and to my Freehold Estate which I hold by Indenture of leave under the late William Hulton of Hulton in the said county of Lancaster, Esquire / Deceased during my Terms and Interest therein
NEXT I give and Bequeath unto my Son James Tong the Sum of one Shilling he having at Sunday Times and what herein ordered and Directed my Executors herein after named to Pay the said Contracted Debts on his account his share of what I have to give Bequeath and Devise
NEXT I give and Bequeath unto my Two Grandsons John Tong and James Tong, Sons of my Son James Tong, each of them the sum of Five Pounds, to be paid to them by my Executors within the space of Twelve Months next after my Decease.
NEXT I give and Bequeath unto my Three Daughters, namely Margaret Green, Mary Norris and Jenny France all of my ready money, and all the rest, residue and Remainder of my Personal Estate of what nature and kindsoever and wheresoever wherewith it has pleased God to bless me with in this World to be equally divided amongst them share and share alike and given unto them by my Executors herein after named as soon as possible they can after my decease, not Exceeding Six Calendar Months therefrom.
AND I do hereby revoke all former or other will or wills made by me at any Time or Times heretofore made and do hereby nominate and appoint My Son, Ralph Tong, Son in Law, John Markland and James Barton of Farnworth, aforesaid, Yeoman, Executors of this my last Will and Testament hoping that they will see the same faithfully performed as my Trust is in them, reposed according to the true Intent and meaning here of allowing unto them the said Ralph Tong, John Markland and James Barton, all reasonable Expenses in the management there of and that each one shall be accountable for what they shall actually receive by and out of the premises and not one for the other or for or with the Receipt of disbursements one of the other.
IN WITNESS, I, the said James Tong, the Testator, have hereunto set my hand and Seal this Thirtieth Day of December in the Year of our Lord One Thousand Seven Hundred and Eighty Six.
SIGNED, Sealed and Published and declared by the within named James Tong, the testator, for and as his Last Will and Testament in the presence of us who have hereunto subscribed our Names as Witnesses at his request in his sight and presence and in the presence of each other.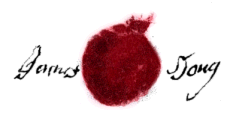 James Jackson
Peter Lomax
John Orrell
July 14th 1787
Ralph Tong one of the Executors within named was Sworn in Common form Power ??? to John Markland and James Barton the other Exors.
Wm. Nelson Sur:-
Under 100£
Prob: issued
---
Notes
23rd Oct 1786, Gift by Jas. Tong of Farnworth, yeoman, to John Markland of Bolton, yeoman, his son-in-law, of pew in new gallery of Deane Church in which the base singers sit and sing.
7th Feb 1807, Bargain and sale for £24-15-0 by John Markland of same pew to the churchwarden for use of the parishioners.
Additional notes here