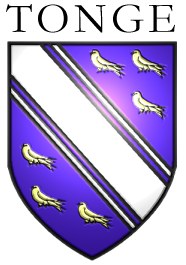 | | |
| --- | --- |
| | Home - Back to main page |
| | Index - Full contents list including primary and secondary source documents |
| | Genealogies - Several different Tonge family histories contributed by other researchers |
| | Search Site |
FRANCE, John: of Rumworth, Yeoman. 1822 Will.

[SJT Notes] I was looking at this will in order to try and establish a link between James Tong, yeoman, of Farnworth, d. 1787, his son Ralph Tonge, and the Ralph Tonge (d. 1810) who was the probable father of Robert Tonge of Heaton (d. 1832). In James Tong's 1787 he will he names Jenney France as his daughter (Jenney was sometimes used as a synonym for Jane). In Robert Tonge's 1832 will he leaves property at Can Row, which had previously been owned by a Ralph Tonge. The John France below also leaves property in Can Row. We could therefore infer that James Tong of Farnworth gave properties at Can Row to his children, including Ralph and Jenney (Jane), although there is no supporting evidence for this.

It's also worth noting that the IGI contains no entry for a John France and Jane (or Jenny) Tong, but it does contain a marriage to a Jane Brown.

Notes: Also review the will of Jeremiah France of Rumworth in 1808, who was John France's father.
Wife Jane 5s per week
Son William France, occupies house in Lostock called "Snug House"
Owns two houses in Lostock occupied by William Edge and Roger Horrox
Owns two houses in Great Bolton, called Top oth Pike, or Williows, occupied by Thomas Kay and David Markland
Grandson Abraham Partington £10
Daughter Mary Seddon
Ann Bullow? my sons John France's child?
Daughter Margaret Kay, property in occupation of Thomas Kay
Daughter Ann Hardman
Daugher Ginney Horrox,

Can Row

, Great Bolton, in occupation of Peter Horrox
Daughter Alice Edge,

Can Row

, Great Bolton, in occupation of Widow Openshaw
Executors: John Fitton, shopkeeper of Hallwell; William France, weaver of Lostock; Thomas Seddon, manufacturer of Westhoughton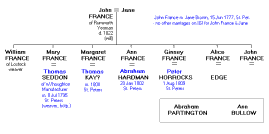 Click image for larger version