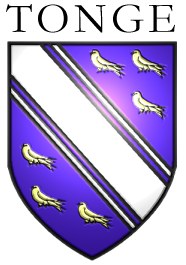 | | |
| --- | --- |
| | Home - Back to main page |
| | Index - Full contents list including primary and secondary source documents |
| | Genealogies - Several different Tonge family histories contributed by other researchers |
| | Search Site |
HAULGH, John :
of Haulgh, Gentleman. Lancashire Inq. - Stuart Period, Pt. 3, Vol 16 & 17, Record Soc., p195
John Haulgh, of Haulgh, Gentleman
Inquisition taken at Bolton in le moors, 5 Setp 18 James [1620], before Edward Rigby, Esq., Escheator, after the death of John Halgh, of Halgh, gentleman, bu the oath of the same Jurors, who say that John Halgh was siesed in fee of 3 messuages, 5 cottages, 20 acres of land, 10 acres of meadow, 40 acres of of pasture in Tonge, and of 12 messuages, 4 cottages, 2 water mills, 2 fulling mills, 200 acres of land, 20 acres of meadow, 200 acres of pasture and 4 acres of wood in "le Haulgh", within the town of Bolton upon the Mores.
The premesis in Tonge are held of the heirs of Gilbert de Tonge, by 2s rent and are worth per ann. (clear) 30s. The premesis in Halgh are held of Thomas Ireland, Knt., as lord of Little Bolton, in socage by fealty and rent of 1 rose on the Feast of the Nativity of St. John the Baptist, and worth per ann. (clear) 40s.
John Halg died at Halgh 3 Oct last past [1619] without issue, and George Halgh, gentleman, his brother and next heir, is aged at the time of taking this inquisition 27 years and more.