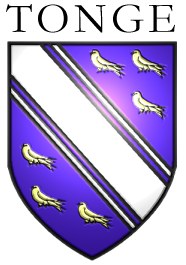 | | |
| --- | --- |
| | Home - Back to main page |
| | Index - Full contents list including primary and secondary source documents |
| | Genealogies - Several different Tonge family histories contributed by other researchers |
| | Search Site |
Lancashire Inquisitions, Extents and Feudal Aids :
Record Society. Extracts relating to the Tonge family of Tonge, Bolton
(1205 - 1307) - p193 XXI Thomas Grelley, 38 Henry III, No. 10, 1253
Writ dated at Oxford, July 20th, 38th year, directed to the sheriff of Lancaster, to inquire who they were, who with dogs, bows and crossbows entered Thomas Grelle's parks in Manecestre, and his forest ay Horewych, and the [game] therein did take and carry away without his license, likewise seizing the said Thomas Grelle's forester of Horwich, and him abducting, contrary to the Kings peace.
Inquest made according to the King's percept by the oath of Elias de Tonge, Robert de Borum, William le Noreys, Thomas de Perpund, Geoffrey de Worketley, Peter de Burml, Roger de Bothelton, John de Cophull, Roger de Eston, Hugh de Longworthe, Hugh Gogard, Ranulf de Bothelton, Richard de Adelinton, and Adam de Dokesbury, who say that on a certain Saturday, in the market place of Mamecestre, Thomas de Gretley's baliff heard men coming to market that they had heard dogs in the park; the baliff proceeded to the park and found a harrier belonging to Geoffrey de Chetham hearding a number of the wild animals there and thereupon he did as he wished. They also say that Alikoc son of Augustin, Maikoc of Heaton, Dobbe de Heaton, William de Knoll, Alexander Lees, Richard son of Hays, Thomas son of Knasfrit, Namme de Blakerode are transgressors of Horwiche forest, but they do not know that anyone seized Thomas [Gelley's] forester or carried him away
p269 Inquest made at Eccelston, Feb 12th 1288
Adam de Dokesbure hold the other moiety of the vill of Adlington by homage and service of 2s 9d at the same term.
The said Adam holds the 3rd part of the vill of Dokesbure by homage and the service of 14d yearly at the same term. Roger de Boulton holds a third part of the said vill by homage and the service of 14d yearly. Elias de Tonge holds the remaining third part of that vill by homage and the service of 14d yearly at the said term.
Part III, Vol. 70, A.D. 1313 - A.D. 1355, p104
WAPENTAKE of SALFORDE (1346). Little Bolton and Tounge - Roger Bolton holds a 12th part of a knight's fee in Little Bolton and Tounge, rendering yearly at the 4 terms as above 2s 6d; the same Roger renders for the same tenements at the term of midsummer for ward of Lancaster Castle 10d.
William Tounge holds 60 acres of land in Tunge, within Bolton of escheat, as he himself acknowledges; in socage, rendering yearly at the 4 terms as above.
p190 Ministers Account 1348 (Duchy of Lancs. Accounts Bundle 13, No. 17)
...4s of the rent of William de Tong for his tenement in Tong...
Part II, Vol. 54, A.D. 1310 - A.D, 1330
1322 - John son of Elias de Tonge and William de Tonge hold 1 oxgang of land in Tonge and render yearly 4s
John son of Elias de Tonge holds one oxgang of land [in Tonge with Haulgh] by the service of 4s yearly for sakefee at the 4 terms.