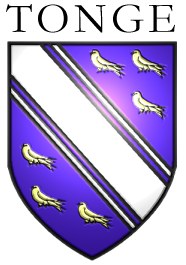 | | |
| --- | --- |
| | Home - Back to main page |
| | Index - Full contents list including primary and secondary source documents |
| | Genealogies - Several different Tonge family histories contributed by other researchers |
| | Search Site |
Manchester Newspapers (1724 to 1790) : Entries relating to the surname Tong(e) taken from the Bolton Miscellany CD available to buy from Manchester and Lancashire Family History Society (Bolton & District Branch).

11th February 1724 The Demesne Land of Tonge, with the Housing and Out Housing, is to be Lett, enquire may be made of Mr. Jonathan Tonge, or Mr. Robert Bennison of Manchester.

[ST Note] I suspect this relates to Tonge in Middleton rather than Bolton.
7 April 1761 The following Persons being Prisoners for Debt in the Castle of Lancaster, in the County of Lancaster, do hereby give Notice, that they intend to take the Benefit of an Act of Parliament passed in the first Year of his Majesty King George the Third, intitled, An Act for Relief of Insolvent Debtors, at the next General or Quarter Sessions of the Peace, to be held by Adjournment thereof, which shall happen next after thirty Days from the Publication of the under mentioned Names. Prisoners in Lancaster Castle, in the County of Lancaster. FIRST NOTICE. ... Richard Tonge, late of Over Hulton in the said County, Weaver and Farmer...

24 April 1764 To be Sold by Auction, On Friday the 27th of April Inst. in the Afternoon, at the House of Joseph Best, known by the Sign of the Sun, in Bolton, subject to Conditions to be then and there produced, Lot I. FOUR Hundred and Seventeen Owlers number'd, 209 Cypher'd; 26 Ashes number'd, 4 Cypher'd; 37 Birches number'd, 24 Cypher'd; and 1 Fir. Lot II. 87 Oaks number'd, and 25 Cypher'd, with the Bark. The Trees are now standing in Farnworth, within two Miles of Bolton. For the Conditions of Sale enquire of Mr. Thomas Smedley, of Little Bolton. Any Person desirous of viewing the Timber before the Sale, may apply to Robert Tong, at the Toll-Bar, in Farnworth aforesaid.

28 May 1765 This is to give Notice, TO all Persons who have any Demands on the Estate of the late Henry Tongue, or Mary his Wife, deceased, that they are desired to meet William Tongue, of Little Hulton, and William Gordon of Wigan, their Executors, in order to receive their Demands; and all Persons who stand indebted to the said Henry and Mary Tongue, are desired to pay the same to the said Executors, on Monday the 10th June, at the House of John Penny, known by the Sign of the Golden Lyon, at Hanging Bank, otherwise they will be sued without further Notice.
[ST Note] Hope Hey Estate, Little Hulton. Will of Henry Tongue of Little Hulton, yeoman, 1763. Also Bridgewater Estates Collection.


20 October 1761 ***** E L O P E D, On Thursday the 8th of October (being afflicted in her Mind) MARY, the Wife of Ralph Tonge, of Halliwell, in the Parish of Dean, near Bolton in the Moors. She is pale looked, a little mark'd with the Small Pox, has a Wart over her Right Eye, and her Left Eye a little swelled; had on a light drab Cloak, two blue plain Petticoats, a new Shag Hat, a Pair of Leather-heel Pumps, with two odd Buckles, and a Dossatee Gown; also wrapp'd up in a Bundle, a drab Camblet Gown, strip'd with blue and grey white Silk, and some Linnen. Any Person that can give Information of her to the said Ralph Tonge, shall receive a handsome Reward, and all reasonable Charges.
[ST Note] See additional notes below.

27 January 1767 S T O L E N, In the Night of Saturday the 24th Instant January, from Birch Hall, near Manchester, A Black GELDING, upwards of fifteen Hands High, rising seven Years old, with a large Roach down his Face, and a Black Star on one Side, one white Foot before, and the other half white, his Hind Legs white as far as the Cambrell in the Inside, a large white Spot under his Belly, two small Saddle Spots, one on each Side, a short Bob Tail, with little Hair on, and a long Main; also a Hackney Bridle and Saddle, with a Black Lamb Skin with the Wool on. Whoever can give Information of him, so that he may be had again, to Richard Tong, of Birch Hall aforesaid, shall receive a handsome Reward.

25 August 1772 Manchester, August 24, 1772. THE Creditors of ALEXANDER and JAMES TONGE, of Westhoughton, who have executed the Deed of Assignment, may receive a Dividend arising from the said Alexander and James Tonge's Effects, on producing an Affidavit of their respective Debts, by applying at the Compting House of Mr. John Teasdale, in Manchester, on Tuesday the 8th of September next.

13 August 1774 To the PUBLIC. IN Gratitude to Dr. JERUSALEM who has performed many extraordinary Cures in this Neighbourhood, and for the Benefit of the Public in general, WE Inhabitants in Bolton, in the County of Lancaster, do hereby certify that Elizabeth Horrocks, living in the said Town, having a Daughter who has laboured under a Disorder called the CATARACTS in her Eyes, which entirely deprived of her Sight, but having Recourse to Dr. Jerusalem, she has perfectly recovered the Sight of both her Eyes, without cutting or any other sharp Operation, but only by internal Medicines, and external Application upon her Eyes, in a very singular and effectual Manner: Witness our Hands, GEORGE MARCH, Constable, JOHN COOPER, Churchwarden, RALPH TONG, Overseer, JOSEPH LORD. N.B. This Method of treating the Disorders of the Eyes was discovered by the Doctor, and proves to be the best ever practiced.


4 November 1777 To be SOLD by AUCTION, At the House of Thomas Price, known by the Sign of the Golden Lyon in Little Hulton, in the County of Lancaster, on Friday the twenty-eighth of this instant Month of November, between the Hours of three and six o'Clock in the Afternoon of the same Day, subject to Conditions of Sale then and there to be produced. THE FEE SIMPLE and INHERITANCE, of and in all those two Closes of Land called Great four Acre, and Little four Acre, containing by Admeasurement four Acres and a Half of Land or thereabouts, (be the same more or less) situate, lying, and being in Little Hulton aforesaid, and now in the possession of William Tonge, the Owner thereof. The said William Tonge will shew the Premises, and further Particulars may be had by applying to the said William Tonge, or of Mr. Edward Kenyon, Attorney, at Law at Peel, in Little Hulton aforesaid.


1 June 1790 BANKRUPTS... DAYS Appointed for the Payment of Dividends... June 15. Alexander Tonge of Westhoughton, in the County of Lancaster, Fustian-manufacturer, Dealer and Chapman; at Ten, at the Coach and Horses Inn, in Manchester...

29 June 1790 D I V I D E N D. THE Creditors who have proved their Debts, in a Commission of Bankruptcy, awarded and issued against ALEXANDER TONGE, late of Westhoughton, Fustian-Manufacturer, may receive a Dividend of Two Shillings and Three-pence in the Pound, upon their respective Debts, by applying at the Counting-house of Mr. William Johnson Edensor, Sussex-street, Manchester, upon Tuesday the 28th of June Inst. between the Hours of two and four, and upon every subsequent Tuesday within the same Hours.

6 July 1790 S T R A Y E D or C O N V E Y E D, A few Days since from a Pasture in FARNWORTH, near BOLTON-IN-LE-MOORS, AN aged BAY MARE, about 14 Hands high, a large Belly, a white Streak down the Face, a black Mane, and a black whisk Tail. Whoever will bring her to Mr. Robert Tonge, at the Golden Lion, Moses-gate, in Farnworth aforesaid, shall receive a handsome Reward, and reasonable Charges.

28 September/12 October 1790
John Tonge of Westhoughton, weaver, and George Rigby, governor of the workhouse there 20l. each, sureties for George Rawlinson of same, bastardy on Betty Pendlebury of same, singlewoman...
Additional notes on Ralph Tonge
Possible parish register events at Deane relating to same family:-
05 Mar 1726 bap. Radus f. Jacobi Tonge de Halliwell
13 Dec 1753 bur. Hanna w. James Tonge, Halliwell
05 Jan 1748 mar. Ralph Tonge and Mary Livesey
17 Mar 1749 bap. James son of Ralph Tonge of Halliwell
31 May 1752 bap. Robert son of Ralph Tonge of Halliwell
30 Mar 1754 bap. Ann daughter of Ralph Tonge of Halliwell
14 Oct 1758 bap. Mary daughter of Ralph Tonge of Halliwell
17 Apr 1760 bap. Betty daughter of Ralph Tonge of Halliwell
20 Oct 1761 Ralph's wife Mary elopes (newspaper)
22 Jun 1763 bur. Mary d. Ralph Tonge, Halliwell
21 Sep 1765 bur. Ann d. Ralph Tonge, Halliwell
22 Feb 1770 bur. Betty d. Ralph Tonge, Halliwell
14 Feb 1774 mar. Ralph Tongue, widower & Ann Pendlebury, widow
21 Jul 1776 bap. William son of Ralph Tonge Halliwell
23 Aug 1788 bur. Jno: s. Ralph Tong, Halliwell
21 May 1791 bur. Ann w. Ralph Tong, Halliwell
11 Jun 1805 bur. Ralph Tonge, Halliwell