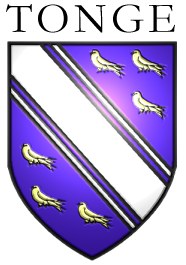 | | |
| --- | --- |
| | Home - Back to main page |
| | Index - Full contents list including primary and secondary source documents |
| | Genealogies - Several different Tonge family histories contributed by other researchers |
| | Search Site |
Medieval Barn at Tonge, Bolton : Photograph of a medieval barn, or dwelling place, demolished prior to the construction on the Hall-i'th'-Wood estate in the 1920's.
Medieval (?) barn, or dwelling, near to the Hall during demolition, prior to the construction of Hall-;'th'-Wood Estate. Note the classic, open-style, large cruck frame with wind-braces together with the remnants of wattle and daub in the front panel. (Photograph circa 1920. Bolton Museum and Art Gallery)
p31, A Short History of Hall-i'th'-Wood, Compiled and Edited by Derek R. Mills.