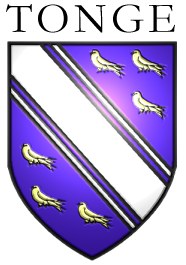 | | |
| --- | --- |
| | Home - Back to main page |
| | Index - Full contents list including primary and secondary source documents |
| | Genealogies - Several different Tonge family histories contributed by other researchers |
| | Search Site |
Miscellaneous Medieval References : Including Richard de Tonge (1300 - 1378), Hugh de Tonge (Yorks.), Thomas de Tonge (monk, of Shrops., 1342), Robert de Tong, John de Tong (of Yorks., 1408)


On Friday next after the Feast of St. Luke the year aforesaid, it happened that Thomas le Rede, servant (garcio) of Richard de Tonge, clerk of the chapel of the lord the King, lay dead of a death other than his rightful death in the tenement of Thomas Scot in the parish of St. Dunstan in Tower Ward. On hearing this, the aforesaid Coroner and Sheriffs went there, and having summoned good men of the said Ward and of the three nearest Wards, viz.: Alegate, Portsokne and Billinggesgate, they diligently enquired how it happened. The jurors say that when, on the preceding Sunday, after the hour of curfew, the said Thomas le Rede and a certain Richard, a clerk, called Dicoun le Clerk, were quarrelling together opposite the house of John le Braye in the said parish, the said Richard drew forth his small knife and struck the said Thomas on the right side, inflicting a wound an inch long and four inches deep, with which wound the said Thomas went to the said tenement, where he lay dead. He there received his ecclesiastical rights and lingered until the Friday aforesaid, when he died at midnight of the wound aforesaid, and of no other felony committed against him. Being asked what became of the said Richard they say that he forthwith fled, but whither, or who received him, they know not. Being asked who were present when it happened, they say No one except those two, nor did they suspect any man or woman of the death except the said Richard, who had no chattels as far as they could ascertain. The corpse of the said Thomas was viewed, whereon the wound appeared, and no other hurt. Precept to the Sheriffs to attach the said Richard when found in their bailiwick.

London: - Calendar of Coroners Rolls, City of London, 1300-1378
Roll B, On the Death of Thomas le Rede.

---
The monks of Kirstall received one carucate of land in Cliviger with all the villiens there, Siward the carpenter cum tota sequela sua, and the services of Hugh de Tong. (foot note: Mowbray Charters, no, 66; EYC, VI, no. 43; Kirstall Coucher, nos. 275, 296; EYC, III, no. 1766; cf. the remarks of Hill, English Cistercian Monasteries, p. 67)

The Monastic Order in Yorkshire, 1069-1215
by Janet Burton
Cambridge University Press
ISBN: 052155229X

---
An unnamed abbot was murdered in 1342. His accused murderer, brother Thomas de Tonge, monk of Buildwas [Note: Cistercian abbey of Buildwas in Shropshire SJT], placed in monastic prison, from which he broke out. Writ for arrest 12 Sept. 1342; papal mand. to reconcile 20 Nov. 1343; yet another writ for arrest 18 Aug. 1344 (CPR 345-48, p.110; Logan, Runaway Religeous, p.207)

The Heads of Religious Houses: England and Wales, 1216-1377
edited by David M Smith, Vera C M London
Cambridge University Press through
ISBN: 0521802717

---
Robert de Tong, who had served Eleanora for some time in the capacity of clerk of the household, was promoted to the dignity of her treasurer; and, as such, was appointed to draw out a list of those persons who intended to accompany the princess abroad, and give it to the parties employed in providing the vessels, that they might know the extent to which such provision was requisite. He was likewise deputed to pay her expenses and those of her attendants, up to the time of their quitting England; these amounted to 1635 marks, exclusive of the money paid for her passage. She was attended by William, Lord Zouch of Mortimer, and Sir Constantine Mortimer, who afterwards became her household steward; also be here treasurer, Robert Tong, eight knights, two ladies, a chamber-woman, a washerwoman, and one hundred and thirty-six men servants, amongst whom are mentioned four minstrels, two esquires, six pages, a salterer, poulterer, and two sumpterers. They had in their train fifty hourses.

Lives of the Princesses of England, from the Norman Conquest
by Mary Anne Everett Green

---
In the account of the Feodary of the Hon' of Pontefract, 10 H. 4 (1408-9). DDD. 70. OF the Relief of John, son and heire of John de Tonge for halfe a Kt's fee in Tonge, Hundsworth & Thornshill, L.

The Yorkshire Archaeological Journal