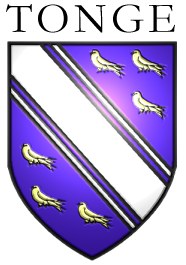 | | |
| --- | --- |
| | Home - Back to main page |
| | Index - Full contents list including primary and secondary source documents |
| | Genealogies - Several different Tonge family histories contributed by other researchers |
| | Search Site |
Tonge Hall
: Material on Tonge Hall available in the Reference Library, Middleton (Ref: L215Y5MC G3TON)
Fishwick, Henry. Tonge Hall in the parish of Prestwich-cum-Oldham. (Extract from Trans. of Lancashire and Cheshire Antiquarian Society Vol. X pp26-32)
Photographs. Tonge Hall 1785, 1894 and 1852 (from drawing)
Victoria County History V.5 pp 85-87
Clippings in scrapbooks
Manchester Weekly Times. April 24th 1891. (sketch of hall) DEAN1
Oldham Standard. September 16th 1893. Halls of greater Oldham. Tonge Hall. DEAN1
Guardian. September 27th 1902. Tonge Hall Middleton. Includes two sketches 1845 and 1902. DEAN1, p156.
Middleton Guardian. 1st February 1936. Description of sale of Tonge Hall Estate. NORCROSS1, p297.
Article by Councillor Norcross. November 1st 1952. NORCROSS1, p162.
Manchester City News, January 9th 1926. Drawing and brief account. NORCROSS1, p335.
Guardian. March 13th 1948, Story of Tonge Hall, NORCROSS1, p394
Middleton Guardian. 8th December 1906. Description of hall as it used to be and neglect of it.
Transactions
Chetham's Society v.88 p.303 Pedigree of Tonge of Tonge.
Lancashire and Cheshire Antiquarian Society. Vol. 32 p253, 1914, Tonge Hall Visited
Lancashire and Cheshire Antiquarian Society. Vol. 11 p163, 1893, visit to Tonge Hall
Middleton (George) annals of Prestwich. p197. Tonge of Tonge
Partington (S.) Jubilee of the Middleton and Tonge Industrial Society Ltd. Part II
Parish Registers V.2. (Leather bound volume).
"The Standard" September 20th 1902. Tonge Hall: its history and occupants.
Tonge Hall Estate. Sale catalogue. January 1936
Other material not covered in above document:
Rambles Around Manchester. Tonge Hall, Middleton, pp198-199
Tonge Hall : The House And Its Families. Morris Garratt.
Tonge Hall. An Architectural Re-appraisal
A Wealth of River. R. Rotherby. pp33-34. Information on the Tonges of Tonge.
The Chronicle. Article on Tonge Hall and the Township of Tonge. July 14th 1979.
Newspaper Article on Tonge Hall. Source unknown.
Photocopy of pages showing crest of William Asheton Tonge and seal of Richard Tonge, of Tonge, gent., from 1691. Also signature of Richard Tonge in 1625, from Raines' MSS. Source unknown, Ref.: B.TON G3.TON
Numerous references in card index file to members of Tonge family
Various photographs and drawings of Tonge Hall.
Local Notes & Gleanings (Oldham & Neighbourhood in Bygone Times). Giles Shaw, FRHS. Reprinted from the Oldham Express. Vol. I, July 1886 - June 1887: Information on the Richard Tonge c1598 - 1678 of Tonge Hall, Gent..
Tonge Hall and a Modern House Compared. R. P. Magee 1993. University thesis - Study of building architecture.
A Family of Middleton. Memoirs of Alderman (Major) A. Wolstencroft OBE, MM, JB, Ex Mayor & Hon-Freeman Borough of Middleton & Metropolitan Borough of Rochdale.
Address and Contact Details:
Middleton Library

Long Street

Middleton

Manchester

United Kingdom

M25 6DU

Tel: 0161-643-5228

Fax: 0161-654-0745
Hours of Opening

Monday

10.00 - 7.30

Tuesday

10.00 - 5.30

Wednesday

10.00 - 12.30

Thursday

10.00 - 5.30

Friday

10.00 - 5.30

Saturday

9.30 - 1.00 / 2.00 - 4.00

Sunday

Closed