Notes on James Tong of Farnworth, Yeoman, and others...
James Tong, Yeoman of Farnworth - Key Dates
1786 23rd Oct - Gifted pew at Deane Church to son-in-law John Markland
1786 7th Dec - Sold "Longshaw Meadow" estate to son Ralph Tonge for £160, including 3 cottages, a garden and meadow, measuring 1 rood and 20 perches. Ralph Tonge had recently built a cottage there at his own expense. John & Ann Markland are also mentioned.

1786 30th Dec - James Tong wrote will, including provisions for children Ann Markland (wife of John Markland of Bolton), Ralph Tong, Betty Chadwick, James Tong, Margaret Green, Mary Norris and Jenny France.

1787 15th June - Buried at Deane Church
1787 14th July - Probate issued
1788 7th July - Ralph Tonge mortgage deed with Exos. of James Thweat for £100
1789 12th Sept - Ralph sells estate to Duke of Bridgewater for £250
1807 7th Feb - John Markland sold pew at Deane Church for £24
Where was Longshaw Meadow?
Cannot find it, or anything like it, on any ordinance survey map from 1840's onwards
It is interesting to note that John Tonge rents "Long Meadow" from Ralph Asheton of Great Lever in 1627, for his own life and that of his son Thomas. Could this be the same place?
1798 Enclosure Awards for Farnworth, show a small patch of land in the possession of John Markland, ref. 19A/B/C. It is measured at a total of 2 roods and 6 perches (A = 5p, B = 21p, C=1rd+20p). Plot C matches the measurements given in the 1786 indenture; 1 rood and 20 perches (about 1500m2)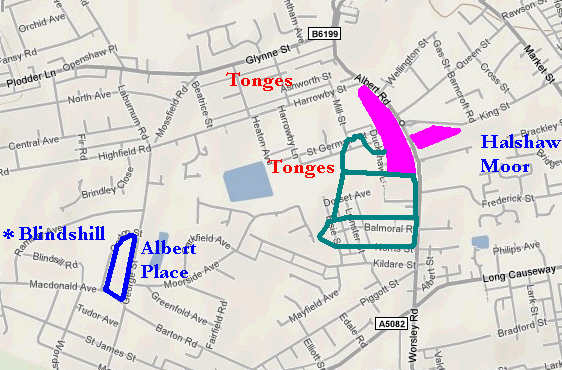 Above: Rough sketch of relevant section of the 1798 Enclosure plan, over laid onto a modern day map. The pink area is the area on the 1798 map which is marked 19A/B/C. C is the detached section on the right hand side of Albert Road (labelled as Worsley Road on the original map, Worsley Trust on 1840s OS map). The two "Tonges" labels are on the original map. Albert Place and Blindshill are not shown on the original map.
Extracts From Various Wills; Markland & Melling
Will of William Markland of Heaton, proved 1803
Sons: Thomas, John, William & James
Daughters: Ellen, wife of John Scowcroft and Jane, wife of Joseph Howarth
Brother: John Markland
Thos., 1 house and stable in Great Bolton known as the Hand & Banner
John, 3 dwelling houses in Spring Gardens, No. 84 pew at New Church in Little Bolton + other
William, 5 dwelling houses in Deansgate, 1 in possession of his brother John
James, house he lives in on Bolton Moor
Ellen, house she lives in on Bolton Moor
Admon of Ann Markland of Westhoughton, widow, d. 1817 intestate
Ann Marsh, niece, wife of Robert Marsh. Ann Markland died without parents, children, grand-children, brother or sister
John Markland of Heaton, Yeoman, 1779
Son Thomas; lands in Blackrod
Son William, lands in Deansgate Bolton, purchased from Thomas Draper
Brother Thomas Markland, £10
Son of late daughter, Betty Draper, under 21
Daughter Ann Byley? Two daughters
Daughter Ellen Byley?
Daughter Mary Seddon
Son James
Daughter Jane
Will of James Melling of Edgeworth, died c. 1805
Wife Mary (d. c. 1805)
Oldest son: Richard
Son: Edmund Melling (in his Majesty's service)
Sons: Thomas, William, James, Robert
Daughters: Betty, Hannah & Mary
Properties; Windy Harbour in Edgeworth, leased from Samuel Haydock, New Smithy in Edgeworth, leased from Thomas Thomason, Cross Keys in Little Bolton, leased from Zacharias Rushforth