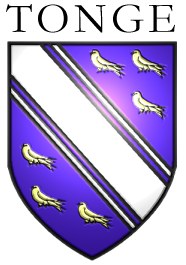 | | |
| --- | --- |
| | Home - Back to main page |
| | Index - Full contents list including primary and secondary source documents |
| | Genealogies - Several different Tonge family histories contributed by other researchers |
| | Search Site |
TONG, Peter : Peter & Catherine Tong, Heaton, Farmer & Lomax family, Conveyance, 1842, BN:ZZ/241/4. Genealogical information extracted from this document.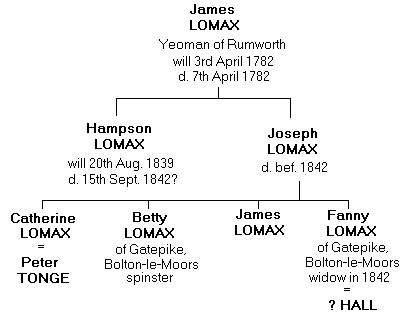 ---
Other documents in same package (ZZ/241)
ZZ/241/1. 23rd March 1732. Assignment of cottage in Bolton. John Rothwell of Bolton-le-Moors, calenderer, to Ja: Houghton of Bolton, blacksmith. Mentions Ralph Rothwell.
ZZ241/2. 1774 Assignment property in Bolton, James Houghton of Great Bolton, inkeeper, to John Bost of Bolton, shoemaker, John Smith, Adam Smith and James Smith (the younger). Also mentions Ralph Rothwell.
ZZ/241/3. 1774 Memorandum. John Fletcher of Lostock, weaver and Jeremiah Lythgo of Rumworth, husbandman to James Lomax of Rumworth, who paid £85 for property on the south side of Deansgate, Bolton. Mentions Ann Lomax, daughter of Thomas Lomax, only son and heir apparent of John Lomax.
ZZ/241/4. 4th Dec 1842. Mr. James Lomax of Great Bolton, farmer, to Peter Tong of Heaton, farmer. Conveyance in Fee of one equal undivided fourth part or share in a messuage or dwelling house and shop in Deansgate within Bolton-le-Moors. In consideration of the sum of £80 from Peter Tong
ZZ/241/5. 1869 Indenture, between Mrs. Fanny Hall of Deane Church, widow, Betsey Lomax of Deane Church, spinster, and Mr. William Tong of Bolton, brewer. Mortgagte of a moiety of a freehold shop in Deansgate to secure £100 + interest. Further charge to secure £100 + interest made 1873 Mentions the will of Hampson Lomax, stating that there were 4 children of his late brother Joseph Lomax living at the time of Hampsons's decease, two of them being Fanny Hall and Betsy Lomax.
---
Source: 1851 British Census
Indexed by Stephen Tonge 2001 (http:\\www.tongefamily.info)
PRO Ref: HO107-2207-161
Census Place: Heaton
Address: Rodgers Stead

Surname, Forename, Relation, Condition, Age Y_M, Occupation, Birth Place, Birth County
Tonge, Peter, Head, Married, 54 Y, Farmer of 29 acres 4 lab, Heaton, Lancashire
Tonge, Catherine, Wife, Married, 52 Y, Farmers wife, Bolton, Lancashire
Hargreaves, Mary, Daug., Widow(er), 30 Y, Farmers daughter, Bolton, Lancashire
Tonge, Elizabeth, Daug., Unmarried, 17 Y, Farmers daughter, Bolton, Lancashire
Tonge, Catherine, Daug., Unmarried, 15 Y, Farmers daughter, Bolton, Lancashire
Hargreaves, Mary Jane, Grand daughter, [None], 7 Y, Farmers grand daughter, Bolton, Lancashire
Hargreaves, Elizabeth, Grand daughter, [None], 5 Y, Farmers grand daughter, Bolton, Lancashire
Coin, John, Servant, Married, 23 Y, Farm labourer, [None], Ireland
Draper, Thomas, Servant, Unmarried, 30 Y, Ag. Lab., Latham, Lancashire