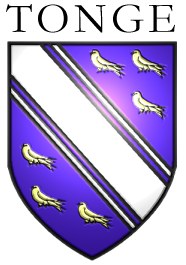 | | |
| --- | --- |
| | Home - Back to main page |
| | Index - Full contents list including primary and secondary source documents |
| | Genealogies - Several different Tonge family histories contributed by other researchers |
| | Search Site |
PROCAT Misc. Documents :
Misc. documents at the Public Records Office on the PROCAT index for Tonge.

C 143/419/13 Semannus de Tonge to grant a messuage and land in Faversham and Boughton-under-Blean to the master and brethren of the hospital of St. Mary, Ospringe. Kent. Richard Saundre to grant land in Ospringe to the same. Kent. 16 RICHARD II. (1392-93)

C 143/431/9 Seman de Tonge to found a chantry at the altar of the Holy Trinity in the church of St. Mary, Faversham, retaining the manor of Shulland in Newnham. Kent. 2 HENRY IV. (1400-01)

C 47/22/6/17 [Request by the King of Scotland from the Chancellor of England for a pardon for Sir Richard Cros for the death of Roger de Denecombe, the elder; also for protections for Sir Robert Gower and Roger de Tonge who are in his service in Scotland and for John de Wygington and Roger de Faudon] [1337]

C 1/7/58 Margery, late the wife of Roger Rye, of co. Kent. v. Arnold de Tonge, clerk, John Feversham, William Barbour, and Richard and John Seintcler.: Certain lands and rents enfeoffed by the said Roger.: Kent. 1386-1486

E 358/2 Account and official: Residue of the account of Robert de Tonge, late guardian and receiver of victuals in the towns of Newcastle upon Tyne and Berwick upon Tweed 8-12 Edw III (1334 - 1339)

PRO 56/31 Andrew de Tonge's great roll of Scotland at Exeter Cathedral Library 1957-1959

E 43/387 Indenture witnessing receipt by William de Stillington and Mark de Podemor, dwelling at Perth (St. John's town of Pert) under Sir Robert de Tong, the King's Victualler at Berwick-on-Tweed, from various merchants of England, of 56l. sterling for purchase o 11 [Edw III]

E 101/612/35 Army, Navy, etc.: Account of Robert de Tong, victualler of Berwick on Tweed. 9-10 Edw.III

E 101/19/3 Account of Robert de Tong, keeper of victuals at Berwick. 8 & 9 Edward III.

E 101/19/6 Account of Robert de Tong, keeper of victuals at Newcastle. 8 to 12 Edward III.

E 101/20/4 Account of Robert de Tong, keeper of victuals at Berwick. 10 & 11 Edward III.

E 101/20/32 Account of Robert de Tong, receiver of victuals at Berwick. 11 & 12 Edward III.