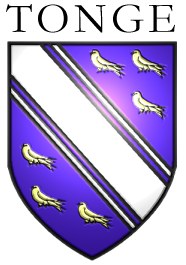 | | |
| --- | --- |
| | Home - Back to main page |
| | Index - Full contents list including primary and secondary source documents |
| | Genealogies - Several different Tonge family histories contributed by other researchers |
| | Search Site |
TONGE, Ralph :
of Chorlton Upon Medlock. Died 1871. Information regarding the estate of the deceased Ralph Tonge and genealogical gleanings. National Archives Ref: PL 31/820
Ralph Tonge of Chorlton Upon Medlock, died in 1871. In his will he left plots of land at Pump Street and Clarendon Street, Hulme, Manchester (from which yearly rents of £22.17.0 were paid) to his son Daniel Tonge, and Daniel's children. Daniel Tonge, who had emigrated to America in 1840's, died in 1879. He left two heirs, Daniel Edward Tonge and James Albert Gordon Tonge. Daniel Edward Tonge also died in 1879. In 1881, John Gordon was granted guardianship of James Albert Gordon Tonge's estate, as he was only 19 years old, and was classified as a minor until he was 21.