---
TONGE, Ralph : Halliwell Poor Rate Assessment, 1798 - 1811. Extracts from transcription by W. D. Billington (Bolton Archives Ref: PAS5/16)
| | | | | |
| --- | --- | --- | --- | --- |
| Name | Estate | Value | Tax | Date |
| Ralph Tongue | Chaddocks | £16 | £3 4s | 13-7-1798 |
| Thos. Holm | Sheepcote Byrams | £6 10s. | £1 6s. | 1-6-1800 |
| Ralph Tonge | Byrams | £16 | £8 40s. | 1-6-1800 |
| Jere Pendlebury | Byrams | £10 10s. | £2 2s. | 1-6-1800 |
| Ralph Tongue | Byrams | £16 | 16s | 6-5-1801 |
| Ralph Tonge | Farm* Barrows | £16 | £2 | 26-6-1802 |
| Willm. Tonge | ???shaws | | | 6-5-1804 |
* There is a mistake and insertion on this line of the transcription, so this information may be inaccurate.
Ralph Tonge is recorded in the Halliwell land tax assessments from 1782 to 1803, paying 8s 8½d. He is also recorded as the proprietor in 1782. From 1788 the proprietor is Miss Byrom, through to 1802 when Cundliffe's is recorded, Cockerills in 1803 and Mr. Ainsworth between 1804 and 1809. From 1804 to 1809 the farm is in the occupation of Henry Rushton.
Also see LOWER TONG'S & HIGHER TONG'S FARMS.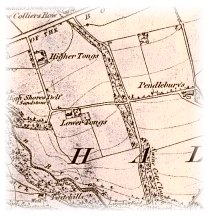 Showing Chadwicks, Lower Tongs, Higher Tongs and Harwoods