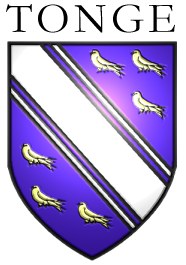 | | |
| --- | --- |
| | Home - Back to main page |
| | Index - Full contents list including primary and secondary source documents |
| | Genealogies - Several different Tonge family histories contributed by other researchers |
| | Search Site |
TONG, Samuel : Administration Bond, 25th February 1761. Abstract.
Know all Men by theテ Preテnts, That We Esther Tong of Darcy Lever, in the County of Lancaster, Widow [and] Thomas Tong of the same, Husbandman and James Livsey of Bolton in the same County, Inn keeper are holden and firmly bound......
THE Condition of this Obligation is ブch, that if Esther Tong, above bounder, Adminiフratix of all and ナngular, the Goods, Chattels, and Credits of Samuel Tong of Darcy Lever aforesaid, Husbandman, her lawful Husband deceased......
The Mark of Esther X Tong
Thos. Tonge
Jas. Liveテy
---
NB: There is a baptism at St. Peters, Bolton-le-Moors of Thos: Tong, s. of Saml. Tong & Esther of Harwood, 9th June 1723 - possibly the above.