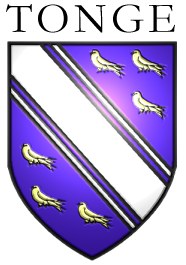 | | |
| --- | --- |
| | Home - Back to main page |
| | Index - Full contents list including primary and secondary source documents |
| | Genealogies - Several different Tonge family histories contributed by other researchers |
| | Search Site |
TONGE, Thomas :
Of Blindshill, Farnworth, Will, 1672. Abstract contained in the William Asheton Tonge papers at Chetham Library.
In the name of God Amen
18th July 1672
Thomas Tonge of Blindshill in Farnworth
Yeoman
"Part of the inheritance of my elder brother Henrie Tonge"
Son James Tonge
Daughter Ann wife of Edmund Rishton
Exors: Son James & son-in-law Edmund Rishton
Wit: Joseph Leigh & Jo. Rishton
Thomas Tonge, his mark
Proved 26 Aug: 1672 by Exors.
Inv. by James Wallworke, John Rishton Senior, Edmund Watson & Wm. Rishton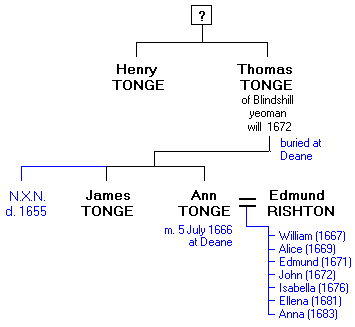 Notes:
(a) In 1678, fifteen free holders in Farnworth gave permission for Edmund Rishton to build a house upon the waste land. Four of the free holders, who "resided on their own land" were called John, James, William and Thomas Tonge. (see JHP Cht. Lib.)
(b) 1847 map of part of Farnworth, inc. Blindsill, Highfield, Highfield Hall, Albert Place, Dixon Green, Plodder Lane, New Bury, Black Lane, Beech Cottage, Bottom O'th Green.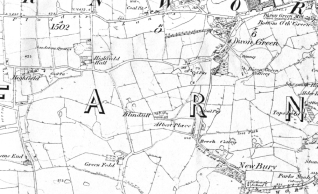 (c) Notes of interest:-
Various spellings of Blindsill include Blyndhill (1626), Blindshill (1655) Blinds Hill (1841) and Blindsill (1847 onwards)
LRO DDKE/9/58/15 - date: 24 Jan. 1683/4 Tho. Lever, Chambre - sending James Tonge's title deed to his patch of land at Blyndshil.
The Tonge family was numerous in the Blindsill area in 1841. In the census there are three houses in this area which are inhabited by the branches of the Tonge family. There are also many more in the immediate locality; 2 in Black Lane, 5 in New Bury, 9 in Dixon Green and 1 in Buckley Lane.
Vol. 8, p57; Wheelers Chronicle, abstract: Jane Tong, Innkeeper of Moses Gate, 13th January 1813, sold land on Halshaw Moor, New Bury Estate and Blindsele estate
Tong Street and Tong Square were probably named after members of the Tonge family who resided in the Blindsill area.