A MAGNIFICENT Tudor building has been trashed and burgled by yobs.
Vandals ransacked Tonge Hall, which lies off Oldham Road in Middleton, leaving a trail of destruction in their wake.
Many windows were smashed and a leather chair, CDs and picture frames were just some of the items that lay scattered and broken throughout the grounds.

Passer-by, Bernard Clarke, who was out walking his dog was the first to notice the damage. Mr Clarke, 49, of Pilkington Street, called the police when he came across the devastation.

He said: "There was property all over the place and there had been considerable damage to the windows.

"A bike was also dumped in the garden. It had a chain around the wheel so they probably couldn't ride it away."

A workman has since been to the hall and boarded up many of the broken windows and the front door.

Captain Norman Wolstencroft who lives in the property said: "Obviously I am annoyed.

"The place has been completely ransacked and numerous windows have been broken."

The grade two listed building dates back to 1590 and still has many of its original features including oak beams and an inglenook fireplace.
The hall, which has been owned by the Wolstencroft family for more than 100 years, has had considerable alterations and restoration work carried out over the years and now stands as a proud monument to the 16th century and to Tudor architecture.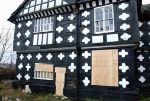 BROKEN and boarded up windows now adorn the front of the impressive historic building


But the recent break-in has left a lot of local people concerned about the future of the impressive building.

Kevin Collins, who lives near the building, said: "Kids are wrecking the place. I called the police when I saw the mess and they came up to check it out but of course they didn't find anyone.

"It is one of the oldest buildings in Middleton and it is a disgrace that it should be left like this. What is going to become of it? People are wondering what is happening."

Mr Clarke added: "There is a gang of youths, about 20 or 30 of them, that always hang around the area at night. Something needs to be done.

"It's such a shame that a lovely building like this is vandalised and is being made a mess."

Another local resident added: "People will destroy anything these days and don't seem to care about heritage or anything like that.

"The memorials throughout the town have been vandalised and forgotten about and not long ago a church was set on fire. People need to have more respect."


Emma Mountford