A MAGNIFICENT Tudor building has been vandalised once again by a gang of yobs.

Two windows were smashed at Tonge Hall, which lies off Oldham Road, over the weekend leaving shards of glass littering the lawn.

Captain Norman Wolstencroft who lives in the property said: "Obviously I am annoyed. It happened on Friday night.

"Two windows were smashed with vodka bottles.

"Now I will have to pay to have them repaired."

There have been reports of a gang of 20 to 30 youths hanging around the hall in the evenings, drinking alcohol and causing a nuisance.

The windows have since been boarded up but local residents now want more to be done to stop the youths from congregating in the area at night.

In January Tonge Hall was again targeted by vandals who also took a number of items from the house including a chair, bike and CDs which were later found scattered in the grounds.

Windows are constantly broken and empty bottles and cans are often littering the walkways around the grounds of the hall.

One Oldham Road resident said: "It's happening far too often.

"This is one of the oldest buildings in Middleton but gangs of kids are wrecking it.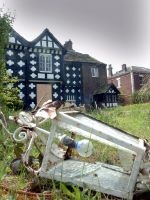 WOODEN boards once again cover the smashed windows at Tonge Hall and a vandalised lamp lies in the grounds.


"They use the grounds to get drunk and then go round and vandalise and destroy the property. It's being made such a mess.

"People should have more respect but all they care about is getting drunk and ruining other people's homes and heritage."

The grade two listed building dates back to 1590 and still has many of its original features including oak beams and an inglenook fireplace.

The hall, which has been owned by the Wolstencroft family for more than 100 years, has had considerable alterations and restoration work carried out over the years and now stands as a proud monument to the 16th century and to Tudor architecture.

But with the continual vandalism happening to the hall, many residents are concerned what the future may hold for the much-loved building.


Emma Mountford