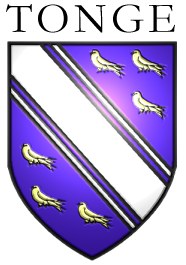 | | |
| --- | --- |
| | Home - Back to main page |
| | Index - Full contents list including primary and secondary source documents |
| | Genealogies - Several different Tonge family histories contributed by other researchers |
| | Search Site |
Tong of Kent :
Various extracts relating to the Tong family of Tong, Tunstall, Pitstock and Bredgar in the county of Kent.
Victoria County History of the County of Kent, Vol. III
p267 - The Domesday Monachorum
Hugh de Port holds Hageleg [Hawley] for ½ sulung, Eisce [Ash] 3 sulungs, Dideleg [Idley?] and Somniges [-], for ½ sulung, Pellesword [Paddlesworth] for ½ sulung, Resce [Ryarsh] for 2½ sulungs, Offeham [Offham] for a sulung, Alnodentune [Allington] for 3 sulungs, Tunestele [Tunstall] for 3½ sulungs, Cert [Upchurch?] for 2 sulungs, Tanges [Tonge] for 2 sulungs, Stependune [-] for a sulung less ½ yoke, Nordtune [Norton] for 4 sulungs, Herst [Hurst] for 3 yokes, Pesinges [Pising] and Piham [Pineham] for 2 sulungs, Eawelle [Ewell] for 3 sulungs, Westcluie [Westcliffe] for 2 sulungs, Soltune [Solton] for a sulung.
Sum, 34 sulungs and 2½ yokes, and 54 acres which were once (assessed) in Derteford [Dartford].
Hasted, Edward, The History and Topographical Survey of the County of Kent, Vol. VI, 1779-1800
pp. 94-95 Milton Hundred, Tunstall, PITSTOCK
Thi manor becoming vested in the crown, the king granted it two years afterwards to Sir Thomas Cheney, treasurer of his household, to hold in capite by knight's service. His son and heir Henry Cheney, esq. of Todington, in the 13th year of queen Elizabeth, alienated the manor of Pistocke, and those woods, parcel of it, called Mynchyng-wood, to Richard Thornhill, citizen and grocer of London, whose son and heir Samuel Thornhill, upon his death gave it to his second son Sir John Thornhill, of Bromley, and his son and heir Charles Thornhill, esq. in the reign of Charles II. sold it to Mr. James Tong, whose ancestors had been resident here, and were possessed of lands in this parish for some generations before, for his ancestor William Tonge, resided at Pistocke in the beginning queen Elizabeth's reign, as tenant of it. In the visitation of this county, anno 1619, is the pedigree of Tonge, of Tunstall; their arms, Azure, a bend cotized, or, between six martlets of the second. In which name it continued till at length it was sold to Hayter, and Mr. William Hayter, gent., resided here...
pp. 98-101 Milton Hundred, BREDGAR
But in the next reign of king Richard II. this manor [Bexon] was become the property of the family of Tong, who were of some account in different parts of East-Kent, as well as in this neighbourhood; for it appears that by some ancient deeds, that Semanus de Tong, in the 16th year of that reign, was tenant to the Maison Dieu, in Ospringe, for lands at Lorinden, in Challock, and sealed with a bend cotized, argent, between six martlets, gules, in which name this estate continued down to John Tonge, gent who about the latter end of the reign of king Charles I. alienated it to Mr. Thomas Fearne.
pp. 104 - 105 Milton Hundred, BREDGAR
In the church [St. John Baptist, Bredgar] there are several memorials for the Tongs...
pp. 132 - 143 Milton Hundred, TONG
[Article covers the ownership of the Manor of Tong from pre-Norman Conquest times until 1791. Also of Tong Castle "The Castle of Tong". ]
There was a family of good account formerly, which took their name from the parish. Semanus at Tong was so considerable a man, that in the 21st year of king Richard II he lent the king twenty pounds, no small sum in those days. He possessed lands at Bredgar, Tonstall, and other places in this neighbourhood and elsewhere, and at Bredgar, his descendents remained till within memory.
Domesday Book: Kent. p9. Phillimore 1983. Edited by Phillip Morgan (general editor John Morris)
118 Hugh also holds TONGE from the bishop. It answers for 2 sulungs. Land for 3 ploughs. In lordship 2;
5 villagers with 1 plough.
A church; 4 slaves; a mill at 8s; woodland, 4 pigs.
Value before 1066 and later £7; now £10 10s
Osward held it.
Of these sulungs which Hugh of Port has, Osward held 5 for tribute, and 3 sulungs and 1½ yokes which he took from the King's villagers.