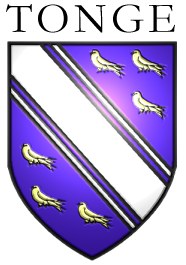 | | |
| --- | --- |
| | Home - Back to main page |
| | Index - Full contents list including primary and secondary source documents |
| | Genealogies - Several different Tonge family histories contributed by other researchers |
| | Search Site |
Tonge of Liverpool :
Copy of gilded watercolour in the possession of the family of David Tonge (Istanbul), displaying the coat of arms of the family of Tonge of Liverpool, and now of South Norwood.
Tonge of Liverpool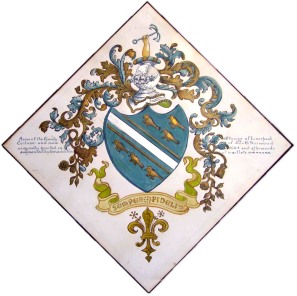 Arms of the family of Tonge of Liverpool
Co: Lanc: and now of South Norwood
originally granted in 1664 and afterwards
augmented by the addition of martlets

Semper Fidelis
---
There is a larger, higher definition copy here: Tonge of Liverpool (178KB)
David's line of descent is from Arthur Seymour Tonge, son of Horace Seymour Tonge, son of Arthur Wellington Tonge, who was born in Liverpool about 1834, and moved to South Norwood about 1874, where he died in 1910
The arms mentioned on the watercolour, granted in 1664 were probably those granted to the family pf Tonge of Tonge Hall, Middleton.
David's family also have in their possession a portrait of Daniel Tonge, on the back of which is written the following text:
Portrait of Daniel Tonge, born 1766, died December 24th 1799
married Miss Elizabeth Wodehouse
his son Daniel Tonge married Miss Mary Ann Severn June 12th 1817 (minatures of the posession of family Miss Christian + H. S. Tonge Esq.)
his son Arthur Wellington Tonge married Julia Whitby, March 12th 1867 at Woodchurch, Cheshire, daughter of John Whitby and Elizabeth Dickins, married St. Phillips, Liverpool. John Whitby son of William Whitby who married ?? Scott, sister of Thomas Scott, commentator, born 17?7 - died 1821
his son Horace Seymour Tonge married Beatrice Kay, February 7th 1912 at Barcombe?, Sussex
another son Stafford Corbin Tonge married Eileen White, April 30th 1913, Millient, S. Australia
his son Arthur Seymour Tonge, born December 2nd 1912, married Joan Mary Clements, June 22nd 1940 at St. David's Church, Exeter, Devon

Transcribed from old papers by Mildred G? Wodehouse Tonge, September 3rd 1914

John Whitby born 1809, died 1841. His father William Whitby died at the age of 84 in the year of the outbreak of Cholera in Liverpool, through reading the Bible to a cholera patient. He never had a day's illness, but contracted cholera. He was called a "Walking Commsulator?" he knew the Bible by heart. born ? 1725.