---
TONGE, Robert: of York. (c1798 - 1866). Rough family tree and notes about a Tonge family from York, and later Sunderland, who used "Scawin" as a middle name.
In November 2006 I was sent a couple of photographs by a Mr. Peter Atherton, who had purchased them at a flea market. Two of the photographs were labelled as Norman Cecil Tonge, and were taken about 1894 in York. One is labelled "A. Tonge" and is probably Arthur Stanley Tonge. The tree below represents a few hours work trying to find out a bit about the family; it requires more thorough research before it can be declared as accurate.
Update September 2009. Photographs forwarded to David Howell of Devon, who is descended from Charles Tonge.
Unknown
Unknown

Norman Cecil Tonge

10 months old

Norman Cecil Tonge

4.5 years old

A. Tonge

Registered Negative No. 104550

James Bacon & Sons, 81 Northumberland St, Newcastle-on-Tyne

Unknown

James Bacon & Sons, 81 Northumberland St, Newcastle-on-Tyne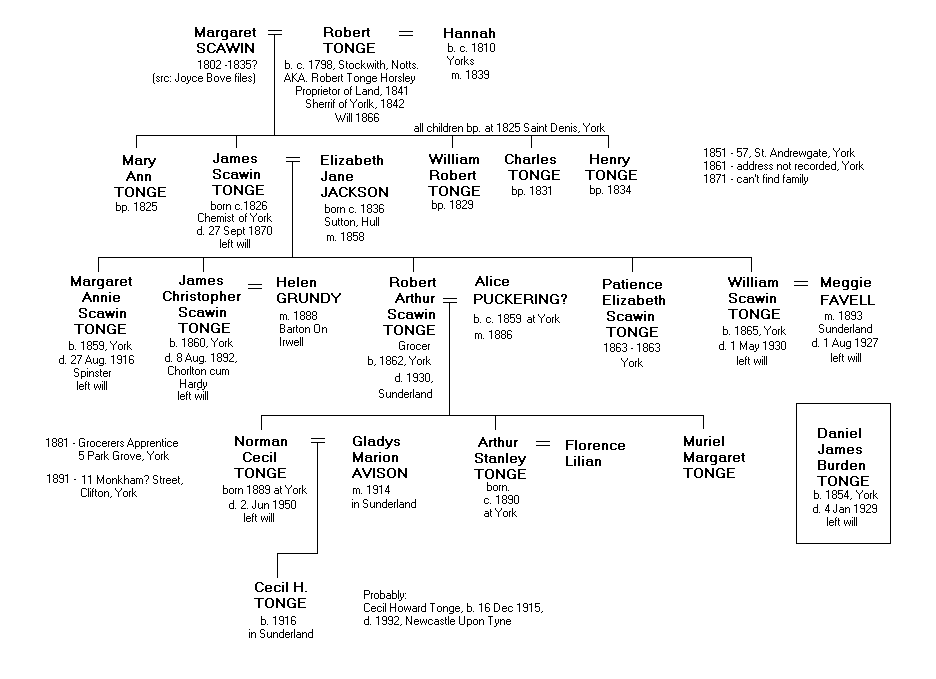 Search words: Margaret Scawin, James Scawin Tonge, Robert Arthur Scawin Tonge, Norman Cecil Tonge, Arthur Stanley Tonge, James Burden Tonge, Robert Tonge Horsley