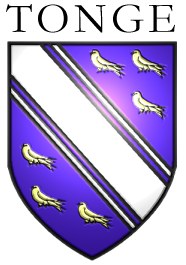 | | |
| --- | --- |
| | Home - Back to main page |
| | Index - Full contents list including primary and secondary source documents |
| | Genealogies - Several different Tonge family histories contributed by other researchers |
| | Search Site |
Top o'th' Meadows Estate :
Advertisment for the auction of Top o'th' Meadows estate in Darcy Lever , 1860, including description and plan. Memorandum of Agreement between John Seddon and Edmund and Esther Ashworth.


Top o'th' Meadows
Farmhouse Building Plan
Top o'th' Meadows
Plan
Clap Row
Close up from Top o'th'
Meadows plan
Top o'th' Meadows
Auction Particulars
---

Valuable freehold estate called "BARLOWS," or "TOP O'TH' MEADOWS," Situate in Darcy Lever, near Bolton. To be sold by auction by Mr. William Lomax, junr., at the house of Mr. Gillibrand, the Horse Shoe Inn, in Little Bolton, on Wednesday, the 14th day of October next, at six o'clock in the evening, subject to such conditions as will be then produced.

Lot 1. All that valuable freeshold estate called "BARLOWS" or "TOP O'TH' MEADOWS,", situate in Darcy Lever aforesaid, on the Highway leading from Bolton to Radcliffe, containing 14A. 3R. 30P. or thereabouts, statute measure, and comprising a good Farm House, with Two Dwelling-houses, Barns, Stables, Shippons and Gardens, adjoining or near thereto, now in the occupation of Thomas Fishwick and sub-tenants. And also FOUR COTTAGES, in the occupation of George Pickup and others, and the Mines, Minerals, and Appurtenances belonging thereto respectively. Also a ground rent of £3 a year secured on Cottages Coloured blue on the plan.

The Estate is situate within two miles from Bolton, and is connected therewith by excellent roads, and lies contiguous to the Railway from Bolton to Bury, and is half a mile from Bradley Fold Station.

There are valuable Coal Mines under and belonging to this Estate, which are let under an arrangement for a lease of ten years from 1860, at a minimum rent of £50 per annum, the Produce Rent being after the rate of £60 per foor per Cheshire acre.

Lot 2. A Ground Rent of £1 14s. 10d., per annum, well secured on one plot of land and buildings thereon, being part of the above Estate. Coloured green on the plan.

For further particulars apply to Messrs. J. H. Watkins and Son, Solicitors, Bolton;
Messrs. John Ashworth and Sons, Land Surveyors, Turton, or to the Auctioneer, Bolton
---
10 October 1860

By Memorandum of Agreement of this date between Benjamin Ashworth, Registrar, Tonge-with-Haulgh and Esther Ashworth of same in the County of Lancaster executor of the late Mr. Edmund Ashworth of Bolton in the same County of the one part John Seddon of Breightmet Bleacher on the other part that is to say Benjamin and Esther Ashworth as executors aforesaid agree to let and the said John Seddon for himself and successors agree to take the Coal under the Estate of Top-oth-Meadow Farm in Little Lever in the occupation of Thomas Fishwick as Tenant. the Coal to be charged and paid for after the rate of £60 per foot per Cheshire Acre. The yearly rent to be £50 per annum payable half yearly in equal payments of £25 each, the first of such payments to be made on the 12th May then next. The term to be for 10 years. It being agreed that Mr. Seddon may commence sinking forthwith. It is also agreed that the damage which may be done to the tenants occupation should be charged as follows. For Meadow land after the rate of £10 per Cheshire Acre and for Pasture land after the rate of £8. It is also agreed that all damage arising from subsidence or anything else by reason of getting such Coal should be made good by the said John Seddon aforesaid. And also at the expiration of the lease all damage from pits, borings and alterations so as to leave the land as nearly as possible in its state at that time. And lastly the said Benjamin and Esther Ashworth bind themselves to make when required at the cost of the said John Seddon a lease containing all usual and necessary clauses to carry the said agreement into effect. And the said John Seddon as aforesaid agrees until such lease he made to observe and carry into effect the stipulations and conditions above mentioned notwithstanding.

In witness whereof they have thereunto set their hands the day and year first before written.

Witness Robert Stewart, Bolton
Benjamin Ashworth, Esther Ashworth, John Seddon
---
Notes:


1724 - Adam Whittle, Yeoman of Darcy Lever died, father of Edmund Whittle
1766 - Edmund Whittle leases land to John Tonge to build a cottage
1786 - Edmund Whittle, of Barlows, in Darcy Lever, died and left his interest in John Tonge's lease to his cousin Henry Ashworth
1789 - John Tonge died
1790 - Henry Ashworth died, and left Darcy Lever properties in the tenure of Thomas Mather and Widow Tonge to his son Edmund Ashworth
1804 - John Tonge's widow Elizabeth died.
1811 - Samuel Brabbin is listed as occupier in Land Tax Assessment
1812 - Samuel Tonge is paid money by the overseers to pay Samuel Brabbin for rent
1841 - Census - Peter Tonge (grandson of John Tonge) living at Clap Row. Mary Tonge (daughter-in-law of John Tonge) living on Moss Lane.
1847 - Ordinance survey map shows two separate buildings, one called Top o'th' Meadow, and the other named Whittles
1860 - Benjamin and Esther Ashworth, son and daughter of Edmund Ashworth, make an agreement with John Seddon for purposes of mining coal from Top o'th' Meadow.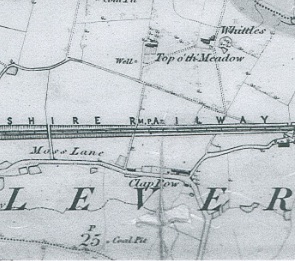 Above: 1847 OS Map