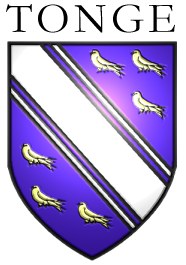 | | |
| --- | --- |
| | Home - Back to main page |
| | Index - Full contents list including primary and secondary source documents |
| | Genealogies - Several different Tonge family histories contributed by other researchers |
| | Search Site |
TONGE, William Asheton (Collection) : William Asheton Tonge Papers & Collection at Chetham Library (MUN.C.7. 1-8, MUN.D.1.1-25, MUN.D.2.1-23)
(MUN.C.7. 1-8). 15 boxes of miscellaneous material compiled and collected by William Asheton Tonge (1860-1936) of Disley and later of Tonge Hall, Middleton. Includes extracts from parish registers, pedigrees, letters, photographs, printed articles, and deeds, chiefly relating to Kent, Lancashire, Shropshire, Staffordshire and Yorkshire. These papers, together with 48 volumes of manuscripts (D.1.1-25, D.2.1-23) and over 3,000 volumes of printed books, were bequeathed to the Library in 1937.
(MUN.D.1.1-25, MUN.D.2.1-23). The books were listed by Hilda Lofthouse and Pauline Leech in Nov-Dec 1947. They were subsequently recatalogued and reclassified according to DCC and were added to the general stock. (See Ms handlist Library Office). Asheton Tonge's collection of original documents and loose transcripts is at MUN.C.7.1-8.
The collection of 48 manuscripts (D.1 - D.2) consists of 41 volumes of notes, memoranda etc. made by William Asheton Tonge when he was working on various families and places in the North West (D.1.1-25, D.2.1-16). The majority of his mss are concerned with the history of the Tonge family and its connections. D.2.17, 18, 20, 21, 22, 23 are original mss owned by William Asheton Tonge and are not part of his collection of transcripts. D.2.22 and 23 were formerly included in the card catalogue of printed books and were given Dewey numbers. These were returned to the collection in October, 1990. MUN.D.2.19 consists of printed material relating to the Agricultural College at Cirencester.