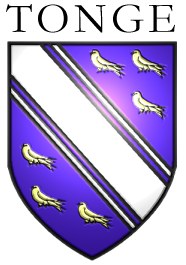 | | |
| --- | --- |
| | Home - Back to main page |
| | Index - Full contents list including primary and secondary source documents |
| | Genealogies - Several different Tonge family histories contributed by other researchers |
| | Search Site |
TONGE, William of Farnworth : Will 1582, husbandman.
In the name of god Amen, the 27th day of November anno domini 1582. I William Tonge of farnworthe in the County of Lancaster, Husbandman, sick in bodye howbeyt whole in mynd & perfecte in Remembrannce thankes be to god, amketh my Last will & Testament in mannor & forme folowinge, that is to saye, firste I geve and Bequethe my soule to Almightie god my onlie Creator & Redemer and my Bodie to be buryed in the parishe churche yeard of the Deane.
Also yt is my Will that Sibell my wief shall have my Howse & ground during her lief. and after her death, I do Leave my goodwill thereof to my eldeste son Thomas Tonge. Further yt ys my Will that my goodes be devided in thre partes, whereof one parte to my Self an other parte to Sibell my Wief & the other parte to all my Children to be equally devided amongest them.
And as concerninge my parte after my funerall & forthe bringinge discharged, I geve the same whollie to Robert Tonge & Richard Tonge my too yonger sonnes to be Equallie devided betwine them, and for the executors of this my present will I do make the said Sybell my wief and Thomas Tonge my Eldest son my Executores to se this my will truly performed.
Wytnes hereof: Franncis Nuttall, Thomas Grundye, George Rothwell, Denys Grundy & others