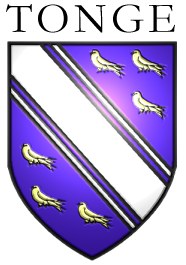 | | |
| --- | --- |
| | Home - Back to main page |
| | Index - Full contents list including primary and secondary source documents |
| | Genealogies - Several different Tonge family histories contributed by other researchers |
| | Search Site |
Tonge, William :
(d. 1389), of London. (a) Extract from 'Survey of London, The Parish of All Hallows Barking, Part One" (Published 1929)' and (b) an extract from the guide book to All Hallows by the Tower (out of print).
(a) William de Tonge, a citizen of London, who in 1389 left 10 marks to purchase a legend for the use of the parishioners, ordered that three of the best chaplains should celebrate in All Hallows church for five years after his death for his soul and the souls of his parents, stipulating that they should be present at all the canonical hours, viz. matins, mass and evensong, at a yearly salary of ten marks (£6 13s. 4d.).
(b) This is the earliest brass in the church. The inscription, in Norman French, is raised black-letter on a narrow scroll surrounding a shield with the Arms of Tongue, a Fleur-de-lis. William Tongue represented the City in the Parliament of 1376-1377, 1388. In his Will, proved 2nd September, 1389, he is described as "William de Tonge of All-hallows Berkynchich and Higham Ferrers, Harts.".