Chantler, Howcroft & Street - Family History Research
Research into the Chantler, Howcroft and Street families of Elton and Radcliffe, and the farms called Chantlers, Pilkingtons and Higher Spen Moor.


Thomas Chantler (1751 - 1831), of Starling, Elton
Thomas Chantler was born in about 1751. He originated from Pendleton in Salford; his family later owned some properties in that area, and family members were buried at St. Mary, Eccles, the parish within whose boundaries Pendleton then fell. By 1777, when he was about 27 years old, he was resident in Outwood. He married Betty Whittaker at Prestwich Parish Church in December of that year, and four months later their first child Ann was born. At this time his occupation was recorded as whitster (a bleacher of cloth). Two years later when his eldest son Ellis was born, he had moved to Elton, and was by then recorded as an inn keeper.

Thomas and Betty had twelve children over a twenty three year period; Ann (1778), Ellis (1780), Peter (1781), John (1784 ob. inf.), Samuel (1787), Betty (1789), Mary (1791 ob. inf.) Margaret (1793), Thomas (1795), Mary (1796) and Esther (1801), Hannah (1801 ob. inf.)

Thomas' wife Betty died in 1804, and was buried at Eccles Parish Church. The parish register records her, incorrectly, as the wife of James Chantler of Radcliffe, but we can see from the monumental inscription that this was in fact the wife of Thomas:




HERE
Resteth the Body of
Thomas Chantler of Starling who died
March 3rd 1831 in the 80th year of his age

Betty Wife of Thomas Chantler
of Starling who departed
this life August 12th 1804
aged 46 years. Also John
their Son who departed this
life May 25th 1785 aged 1 year
and 6 months. Also Mary their
Daughter who departed this
life Septr 28th 1792 aged 1 year
and 3 months. Also Hannah
their daughter who departed
this life Octr 24th 1802
aged 1 year and 5 months








Bishops Transcripts of the Registers of Eccles Parish Church


15 [August] Betty Wife of James Chantler of Radcliffe


Note the "of Radcliffe" is in different handwriting and seems to have been added later

The earliest record of Thomas and Elizabeth Chantler living in Starling is in 1785, in the burial records of their infant children John and Mary at Eccles (in 1785 and 1792). On the 1801 census, Thomas Chantler is listed as being resident at Starling, with a household of ten people; five males and five females, four of whom were employed in "trade, manufacture or handicraft", and six who were not - none of them employed in agricultre.. From 1803 Thomas Chantler can be found paying two shillings and eight pence rent to the Earl of Wilton for land in Radcliffe (Land Tax Records, LRO). Starling was a hamlet on the boudary of Radcliffe and Ainsworth.

In 1809, Thomas' eldest daughter Ann married Thomas Street, the son of John Street, the farmer from a neighbouring farm called Pilkingtons. In 1817, another daughter married William Street, a younger brother of Thomas Street.

Thomas died on 3rd April 1837. In his will he is described as a yeoman, and held premesis in Irlam oth' Heights and Radcliffe. There were properties at this time in Irlam oth' Heights named "Chantlers Buidlings". Thomas' son Peter lived next to Chantlers Buildings in 1841 and 1851, so it is possible that these were the premesis that Thomas referred to in his will. He was buried on 9th March 1831 at St. Mary, Eccles; "Thomas Chantler of Bury, aged 80 years." and "Thomas Chantler of Starling" on his grave stone.

(Below) Thomas Chantler's signature from his will written in 1825





I have assumed that the farm called Chantler's (as seen on the 1847 Ordinance Survey map below) was the property that Thomas lived at, and that it was named after him (although it may in fact have been his son Ellis). Note the close proximity of Starling (underlined purple), Pilkington's farm (underlined green), where the Street family lived, and slightly further south Spen Moor (underlined blue), where subsequent generations of the Street family farmed. In his 1842 will, Ellis Chantler left to his sister Esther Ramsbottom, wife of Thomas Ramsbottom, "properties on the south side of Cockey Lane in Elton, currently occupied by [Ellis]". The farm stayed in the hands of the Ramsbotton family until at least 1901. The building is no longer there, but is remembered in the local street name Chantlers Avenue, and local primary school Chantlers Primary School.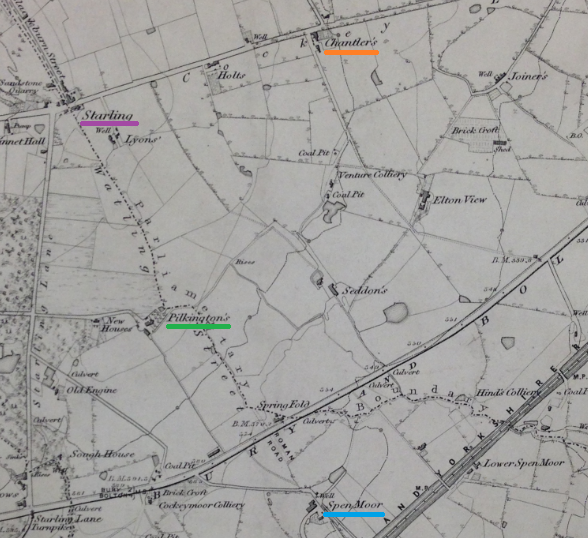 Ellis Chantler of Elton
Thomas' eldest son Ellis Chantler became a successful business man. In 1818 we see Ellis listed in the land tax records, at a tax of one shilling and half a pence on an unnamed property in Elton, taking over from John Warren who had previous occupied the property. In 1825, he is listed in the local trade directory as being of Cockey Lane, a manufacturer of cotton goods. In 1830, the land tax records show us that he had leased an additional two properties; Two Trees Farm (1 shilling) and Brooks (2 shillings and 6 pence) as well as the initial unnamed property. On the 1841 census we find him living at Brooks. Ellis died in 1842, his estate was valued at under £16,000. In his will he left property and money to his siblings and their children, including property in Elton, Pendleton, Salford, Manchester, Bradshaw and Harwood.


Pilkington's Radcliffe
Pilkingtons is a farm that lies on the old Roman road between Manchester and Ribchester. During the mid to late 1700s it was in the tenure of the Howcroft family. In 1766, it was held by John Howcroft, with 13 closes of land (GMCRO E7/18/1/2).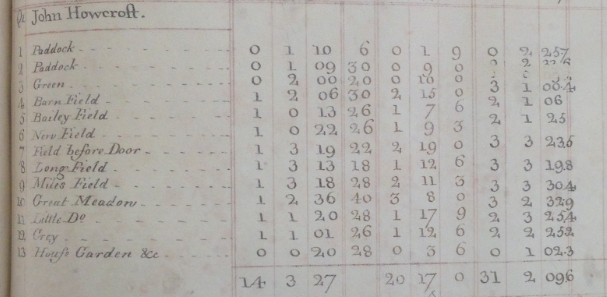 Above:

Earl of Wilton Rentals for Pilkingtons, Radcliffe, 1766. John Howcroft.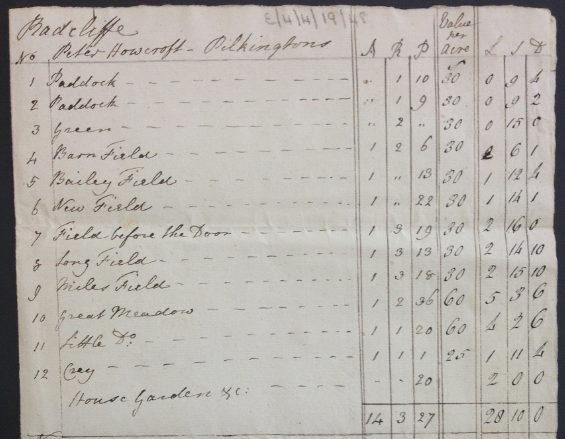 Above:

Earl of Wilton Rentals for Pilkingtons, Radcliffe E4/4/19/48. Peter Howcroft. This document is undated but other documents in the same collection are dated between the mid to late 1700s. The same document also contains accounts for William Olive of Barlows, and John Ball of Cow Grave Fold in Ainsworth.

Peter & Ann Howcroft had two daughters baptised at Radcliffe in the 1750s; Ann and Ellen. In 1777, when she was 23 years old, Ellen married to John Street. John and Ellen Street had nine children; James (1777), John (1779 - died in infancy), Thomas (1780), John (1783), Peter (1785), Ann (1788), William (1790), Alice (1794) and Joseph (1799). Between 1777 and 1794, John's occupation is recorded as weaver, and then from 1799 as farmer, at which point we can assume he has taken over from his wife's parents as farmer at Pilkingtons.

In the Radcliffe land tax records we can find John Street paying varying amounts of land tax for the whole of the period covered by the records (1780 - 1831). What is slightly puzzling about this is that he died in 1814, but continued to be recorded paying land tax until 1831. It is possible that it was his son John who was paying the land tax after he died in 1814, who would have been 31 years old at that time. In his will John (senior) left Pilkingtons farm for his wife Ellen; she died in 1821. By 1841 the farm was occupied by their youngest son Joseph and his family, and by 1851 it was in the hands of Adam Howarth (of whom more later).

Pilkington's still exists (in 2014), and is still used as a farm - now known as Pilkington Fold Farm. Unfortunately the old farm building no longer exists, and looks to have been replaced with a new building in the mid-1900s. Interestingly, the lane that leads up to the farm is called "Street Lane", which may well remember the Street family who lived there.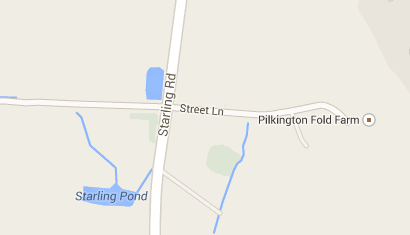 Street of Higher Spen Moor, Radcliffe
Spen Moor in Radcliffe was divided into a number of farms; Higher, Lower and Middle Spen Moor (the latter also known as Israels, presumably after Israel Taylor who occupied the farm in 1729).

The earliest reference I have found to it is the 1612 burial at Radcliffe Parish Church of "Richard Alens, elder, of Spen Moure". Subsequent references are as follows:

1612 - Burial at Radcliffe; Richard Alens, elder, of Spen Moure
1612 - 1665 - 11 burials at Radcliffe of members of the Allen family of Spen Moor
1626 - 1638 - 5 baptisms at Radcliffe of members of the Allen family of Spen Moor
1682 - 1689 - 3 baptisms at Radcliffe of members of the Allen family of Spen Moor
1684 - James Holt of Spenymoor Admon with Inv 1684, Will
1702 - Thomas Yates of Spen Moor, baptism of daughter
1705 - 1713 4 baptisms of children of Richard Barlow of Spen Moor
1708 -Burial at Radcliffe; child of Richard Barlow
1714 - Burial at Radcliffe; Anne, wife of George Allen of Spen:
1725 - Lease of Spen Moor to Richard Allen, for lives of himself and his son Richard Allen and Esther Sandiford (GMCRO E4)
1729 - Burial at Radcliffe; Mary d. of Israel Taylor, Spend-moor
1729 - Burial at Radcliffe; Peter Walker, Spend-moor, Radclyffe
1733 - John Medowcroft of Spend-moor, Radcliffe
1736 - Baptism of child of John Hardman of Spenmoure
1737 - Baptism of child of Thomas Meadowcroft of Spen Moor
1773 - Richard Allen of Higher Spen Moor, son of Richard Allen, recorded as being "living and hearty" aged 51 (born about 1722). The other two people named on the lease are dead (Richard Allen snr. and Esther Sandiford). (GMCRO E4)
1773 - Mary Ramsbottom of Spen Moor, recorded as being "living and hearty" aged 56, against the original lease of Thomas Gregory (GMCRO E4)
1792 - Richard Allen of Spen Moor, co. Lancs. yeoman I. a/c etc. (Account)
1834 - Thomas Gregory, Spend Moor, Radcliffe, farmer, Will (Supra)
1836 - John Davenport of Spend Moor, farmer. Will (Infra)
1836 - Thomas Street, Higher Spen Moor (Trade Directory)
1841 - Census; Thomas Street, son of John Street of Pilkingtons
1851 - Census; Thomas Street
1861 - Census; Peter Street, son of Thomas Street
1871 - Census; Peter Street
1881 - Census; Peter Street (died and left will in 1881)
1891 - Census; Thomas Moore (son of Betty Street & William Moore, nephew of Peter Street)
1901 - Census; Thomas Moore
1911 - Census; Nancy Moore (Thomas' widow)

Further research: There are 21 Lancashire wills of the Allen family of Radcliffe recorded between 1584 and 1836


In the 1836 Bury Trade Directory, Thomas Street is recorded as being the farmer there. He was the son of John and Ellen Street of Pilkingtons. He married Ann Chantler in 1809, and they moved over the road to Higher Spen Moor. The couple had 6 children over a 10 year period; Betty (1810), James (1811), Peter (1813), Hannah (1815), Alice (1817) and Thomas (1819). Thomas (senior) was still at Spen Moor in 1841, with his children Peter, Betty and Thomas; his wife Ann is at the time either visiting, or living with, her wealthier brother Ellis Chantler, the cotton manufacturer. Ann died in 1844, and Thomas in 1854, seemingly intestate. The farm passed to their son Peter, who lived there until he died in 1882. He never married, but was not short of company at the farm, having bought up his sister Betty's children Thomas and Betty Moore, whose parents had died while the children were still young. When Peter died, he left the farm in trust to three of his nephews, to be sold and the profits distributed equally amongst all his nephews and nieces. His nephew Thomas Moore continued to live at the farm until 1901 (at least), and Thomas' widow Nancy was still there in 1911.

Part of Spen Moor was purchased by Peel Holdings Limted in the 1980's, and has been the subject of several contentious planning applications over a thirty year period. The company wants to build over a hundred houses at the site, but the applications have been met with resistance. There a several document relating to this on the Peel Holdings website, including an architectural assessment of the site.

In 2006 there was a murder at the Higher Spen Moor. William Kenyon, a dairy farmer who had lived at the farm for 15 years, was shot dead by Peter Grass, who had been a tenant there for 5 years, and lived in the adjoining cottage. The two men had had a disagreement, which then escalated, and culminated in Grass shooting Kenyon with a shotgun. Grass was convicted of murder and sentenced to life inprisonment,

Higher Spen Moor farm is still there (in 2014), and still operates as a farm. The picture below was taken in 2014 - whether this is the original building that the Street family would have lived in I don't know.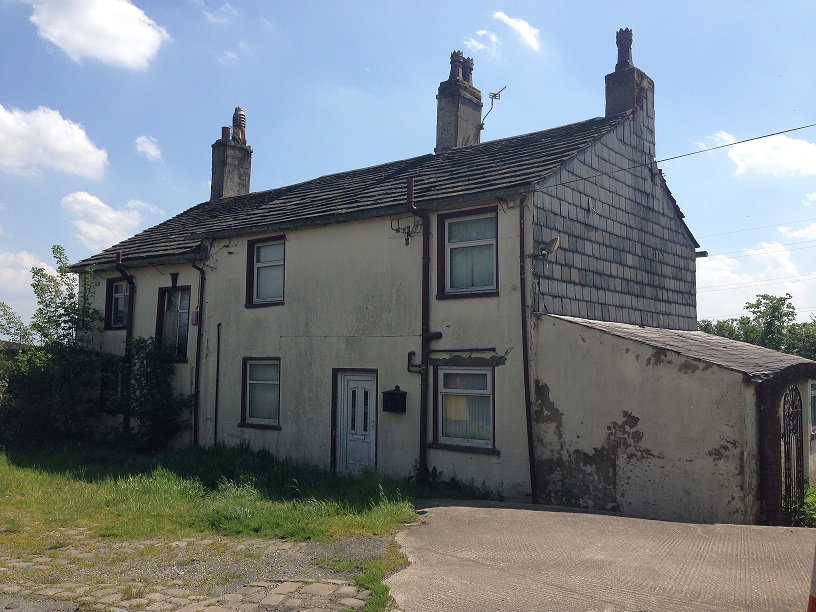 Street Taylor of Top oth' Moss, Breightmet
Thomas Street was the youngest son of Thomas Street and Ann Chantler. He was born in 1819 and was raised on the farm at Higher Spen Moor. When he was 27 years old he married Ann Howarth, the daughter of Adam Howarth, who was at the time farming at Pilkingtons, which in a generation earlier, had been farmed by the Street family. Less than six months after the wedding, on the 19th December 1846, Ann gave birth to a son named Peter. Sadly, she died two weeks later.

Thomas then appears to have had a relationship with Olive Taylor of Unsworth. Olive was at that point a spinster and a single mother of a ten year old boy. Her son John Taylor had been born in 1837 - he is recorded as illegitemate and his father's name is not given. James was born on 3rd December 1847. He was recorded as "James Taylor Street" in the baptism register, son of Thomas Street, farmer, of Radcliffe, and Olive Taylor of Unsworth".

You might have expected that Thomas and Olive would marry at this point, but Thomas' attentions were elsewhere; in fact a month after his illegitemate son James was born, he remarried to someone else; Betsy Olive, a 20 year old spinster from Bury. Thomas & Betsy lived at Scar Top in Radcliffe, and had three children; Ann (1848), James (1851) and Jane (1854), the latter of whom died aged three. On the face of it, Olive Taylor appears to have been abandoned by Thomas, and lived with her parents and two sons John and James in Unsworth.

In September 1856 Thomas' second wife Betsy died aged 28. Seven months later, Thomas remarried again, this time to the now 45 year old Olive Taylor, the woman who ten years earlier he appears to have jilted. They moved to Top oth' Moss farm in Breightmet, where Thomas died in 1865. Olive stayed on at the farm, and by 1881, still lived there, but had handed over management of the farm to her son James Street Taylor. James Street Taylor predeceased his mother, dying in 1885 aged 37. According to family tradition he had caught pnemonia when working in the fields. His wife subsequently remarried to James Coates, and Top oth' Moss farm stayed in the Coates family for some time to come.

This is a fairly complicated set of relationships to understand, and the main question it raises for me, is was James Street Taylor

really

Thomas Street's son? His baptism record clearly states that he was, and when James Street Taylor got married in 1874 he stated that his father was Thomas Street. Indeed, why would Thomas Street marry to Olive Taylor, if she was falsely claiming to have borne his child? That's fairly compelling evidence. But there are a few other factors which lead to some doubt. Four years after "illegit James" was born, Thomas & Betsy had a son they named James, meaning that Thomas had two sons called James, which seems a bit strange - granted that he may not have had a say, or even a knowledge of, the naming of his first son James.

Another possibility which makes a complicated picture yet more complicated, is that there may have been familial connection between Olive Taylor and Thomas's first wife Ann. Olive's parents were Samuel Taylor and Ann Haworth of Unsworth. Thomas Street's first wife Ann Howarth was the daughter of Adam Howarth, of Unsworth. When Olive Taylor and Thomas Street married in 1857, one of the witnesses was Adam Haworth. This raises the question of whether there was a familial connection between Thomas' first wife, and Olive Taylor, through the Haworths of Unsworth.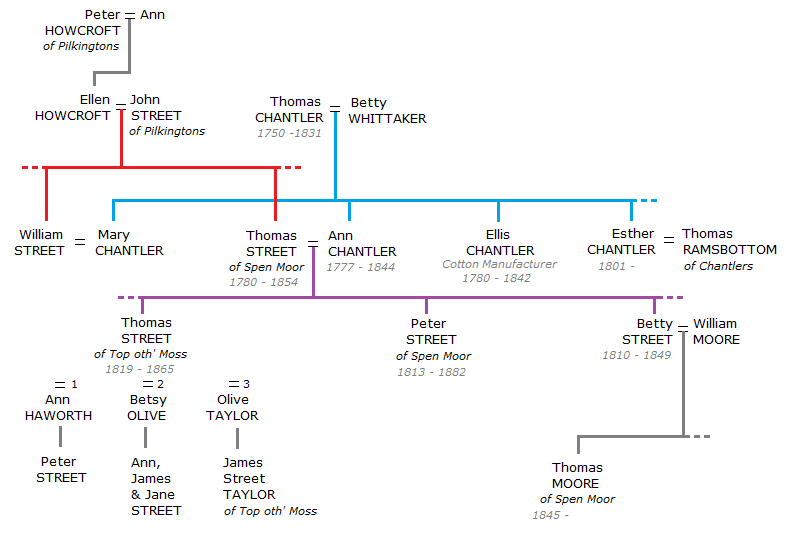 Notes for Further Research
GMCRO

Accounts relating to Peter Howcroft of Pilkingtons (E4/4/19/48)
Radcliffe: Surveys, Valuations and Schedules of leases or tenants E7/18 1720 - 1785
Township Rentals E4/47/1-107 (8 large boxes of documents)
Radcliffe, Little Lever and Outwood (later called Pilkington) E4/48/1-133 [n.d.] 1774 - 1841 (14 large boxes of documents)


Other References